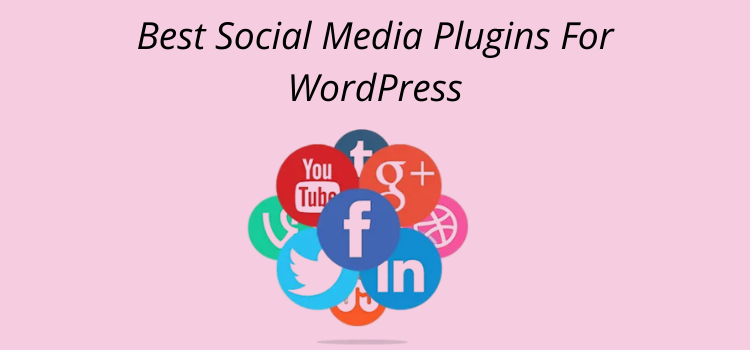 7 of the Excellent WordPress Social Media Sharing Plugins in 2023
As you might be knowing that the impact of social media is rapidly increasing day after the other, there is a higher influence of social media networks required for any business of any level, whether for an already established business or if it is about the startup business.
Social media plays a significant role both for online and offline businesses!
That said, social media sharing can be the most crucial thing to get the most exposure for your business or blogging website!
Further, you should start integrating the social sharing buttons on your WordPress website that allows your website visitors and your blog readers to effortlessly share your website or blog with a simple click of a button on their social networks.
Doing so, will in turn help you to bring more traffic from various social media channels. This way you can have major benefits with fewer efforts.
What things you should look upon while placing the social media Sharing buttons?
First off, you should take into consideration that your placed social media icons show social Fan counts, social like buttons, can easily perform the faster loading speed, and many other advanced features.
One of the basic things you should look upon for the WordPress social media sharing plugins is the common features such as the social media share buttons like Facebook, Twitter, LinkedIn, Pinterest, Instagram, and StumbleUpon are among the most renowned popular social media sites.
Here, in this article, we are going to discuss the top WordPress social media plugins that you can easily rely upon.
So, without any further ado, let's dive deeper into it!
Let's Begin!
Read More:
The Ultimate WordPress FAQ plugin list for Creating FAQ Pages in 2020
WordPress Social Media Sharing Plugins List
Social Snap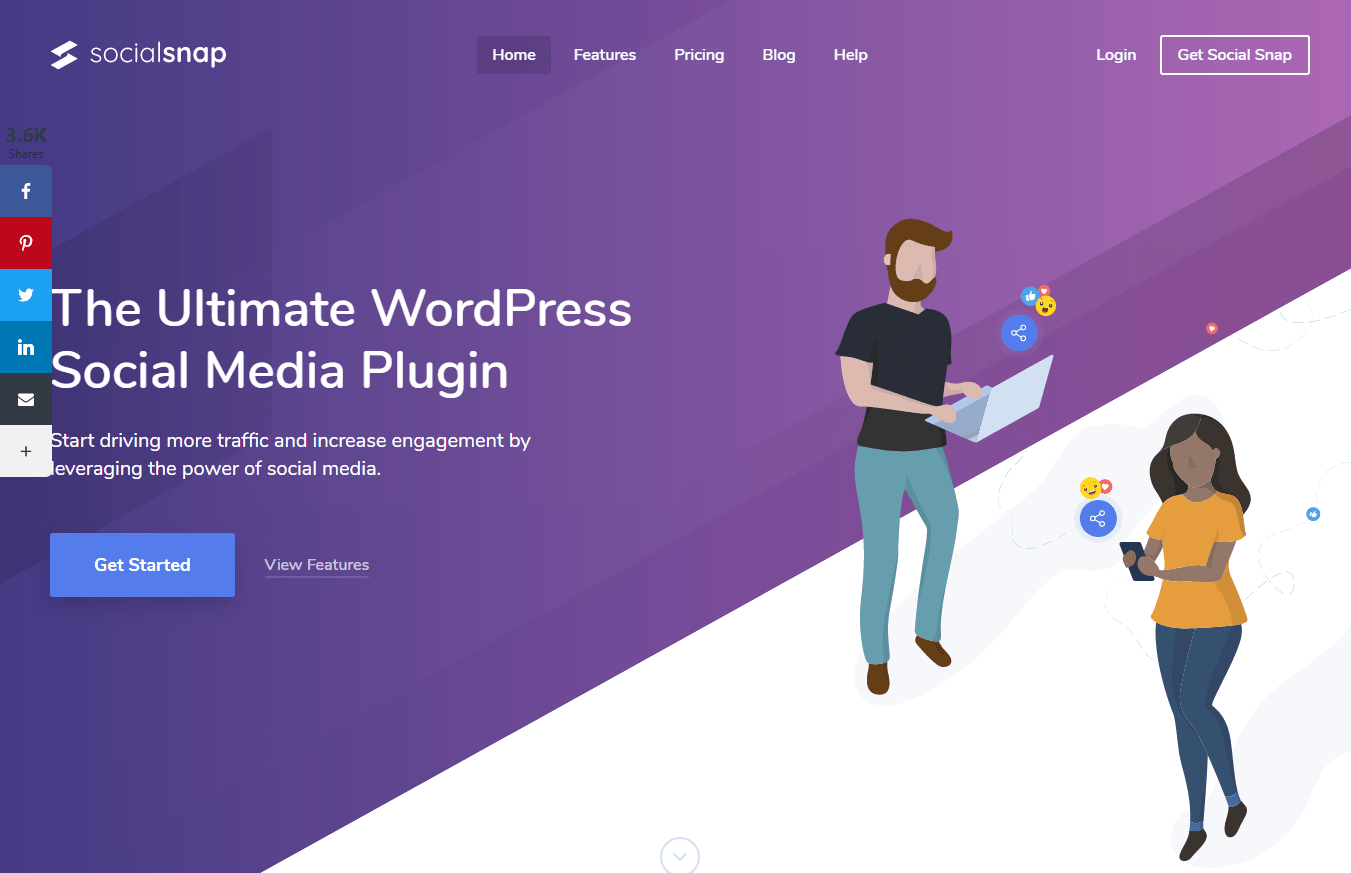 Social Snap
is an ultimate WordPress social sharing plugin that can ultimately help you to boost traffic and improve the engagement with an easy integration of social sharing buttons.
An amazing thing about this impressive plugin is that it includes more than 30+ social networks to insert. When you include your favorite social networks and apps, then it becomes easy for your website visitors to share your content through the social sharing or app button.
Key Features of social Snap:
It allows you to place the social share button such as inline button, sticky bar, widgets, floating sidebar
Supports the easy shortcode to put the social sharing buttons on any page or posts of your WordPress website
Allows you to do customization like choosing button shapes, animations, colors, and more
Provides the social proof option by showcasing the total share counter and individual counter using an API and via click tracking
Allows the option to take control such as sharing custom images, custom title, and description at the time of sharing the post on social media networks
Provides the facility to recover your share counts in case you change permalinks, make the domain updates, and more.
Offers powerful analytics feature to check if your social sharing strategy is working
Offers page view counter
Plus, this plugin offers the Add-ons options like Social Auto poster, Boost Old Posts, Social Login, and Content locker. For getting all these add-ons you have to purchase the Pro or agency plan for Social Snap.
Further, if you want to show your top-performing posts to your website visitors, then you have the widget option for that as well.
Pricing:
This awesome plugin offers both free and paid options for the users. The premium version of Social Snap starts from $27 for a single website usage (1 Year of update and supports available)
Monarch Social Media Sharing Plugin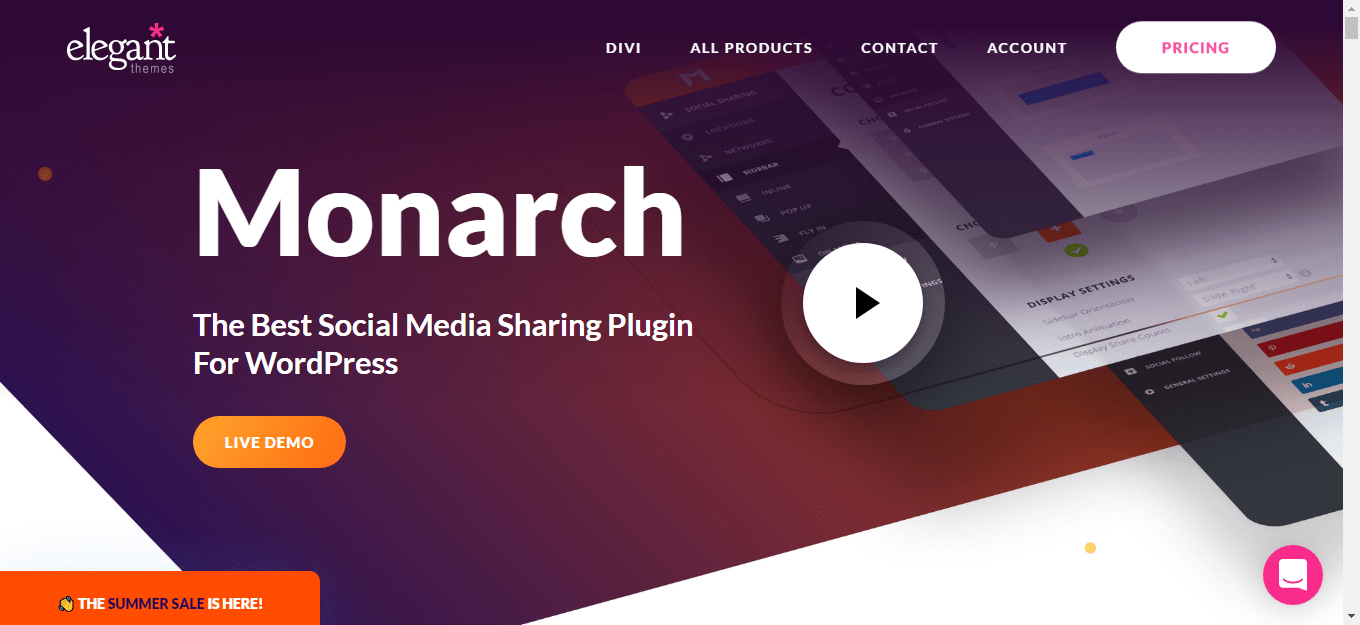 Monarch Social Media Sharing Plugin
is a powerful WordPress social sharing plugin by Elegant Themes that can surely draw your attention when it comes to showcasing the social sharing buttons on your WordPress website.
This wonderful plugin offers over 20+ social networks for you to select that can surely help you to boost up your business.
Let's have a glimpse at some key features of the Monarch social media sharing plugin:
Provides facility for automatic sharing pop-ups with your triggered time delay for example if the website visitor is upon to leave the web page of your website, or in case if the visitor scrolls down to the bottom of the web page.
Offer 6 automatic fly-in and pop-up trigger options to draw the visitors attention
Allowing your website visitors to see the social follow counts, social network profiles, and to easily become a follower just in a few clicks
Facilitates over 35 social networks to select from
Allows you to place follow buttons on any Widget area
Applying shortcode inside Divi text module
Provides easy customization for selecting the button shapes, colors, button hover effects and placing social icons into the design of your theme
Fully responsive designs that fit on any devices
Import/Export the monarch data option if you want to display it on multiple websites
Moreover, this extraordinary plugin offers you a monarch statistics facility that can help you to see the analytical view for the shares, likes, and follows. Further, if you want to display the opt-in forms to readers after they comment on a page or post, then it's possible!
In short, this plugin is all you would need to take your social sharing to the next level!
Pricing:
This plugin comes within when you purchase the Elegant Themes yearly access for $89 / year for unlimited website usage.
ARSocial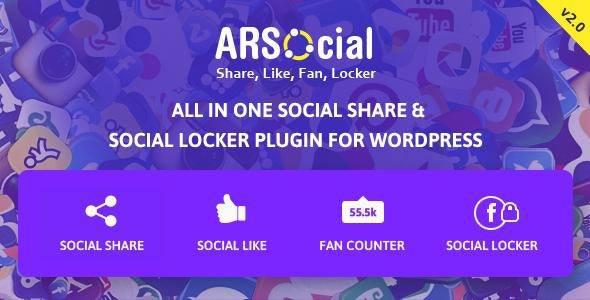 ARSocial
is an all in one featured-packed social share and social locker plugin that comes with a blend of social share, social locker, social like / Subscribe / Follow, and social fan counter.
This is a great plugin that can overcome your bottleneck of installing several other plugins for your social media sharing needs.
Whether you want to place the social media sharing buttons site-wide or if you are looking to insert them section-wise, ARSocial allows you to do that with the simple use of shortcodes option on any of your WordPress pages or posts.
With this feature-rich plugin, it's easy to select your favorite social network with a simple drag and drop option. Amazing part? You can arrange their positions as well!
Let's have a glance at the advanced features of this impressive plugin.
Offers the unique feature of the social content locker to lock your premium content. Also, social share and social sign-in lockers options are provided by this plugin.
Social Fan Counter option to see the fan counters of famous social network profiles. ARSocial provides built-in templates to select them with the horizontal/vertical position.
Offer 30+ social share buttons to choose from.
Provides facility for the social Likes / Follow / Subscribe option that supports 12 most popular social networks
Offers Built-In Analytics features that lets you see the stats of unlocked entries for the social locker and social fan counter buttons click tracking with several chart and table options. With this, you can easily analyze the activities of your website visitors.
Optimized for the faster loading social share buttons without any hassle of slower loading speed for your WordPress website.
Compatible with the Cornerstone, WooCommerce, and Visual Composure
Allows you to display your social media sharing buttons on the sidebar, top bar bottom bar, pop-ups, and section-wise on your WordPress pages or posts.
Allows you to get the shortened URLs for your pages and posts with the use of bit.ly or WordPress default URL shortener
Plus, this best in class plugin offers the CSS3 based icons, translation ready, mobile display option for fully responsive designs, and much more.
Pricing:
This plugin can cost just $21 for its regular license purchase from the CodeCanyon marketplace.
Easy Social Share Buttons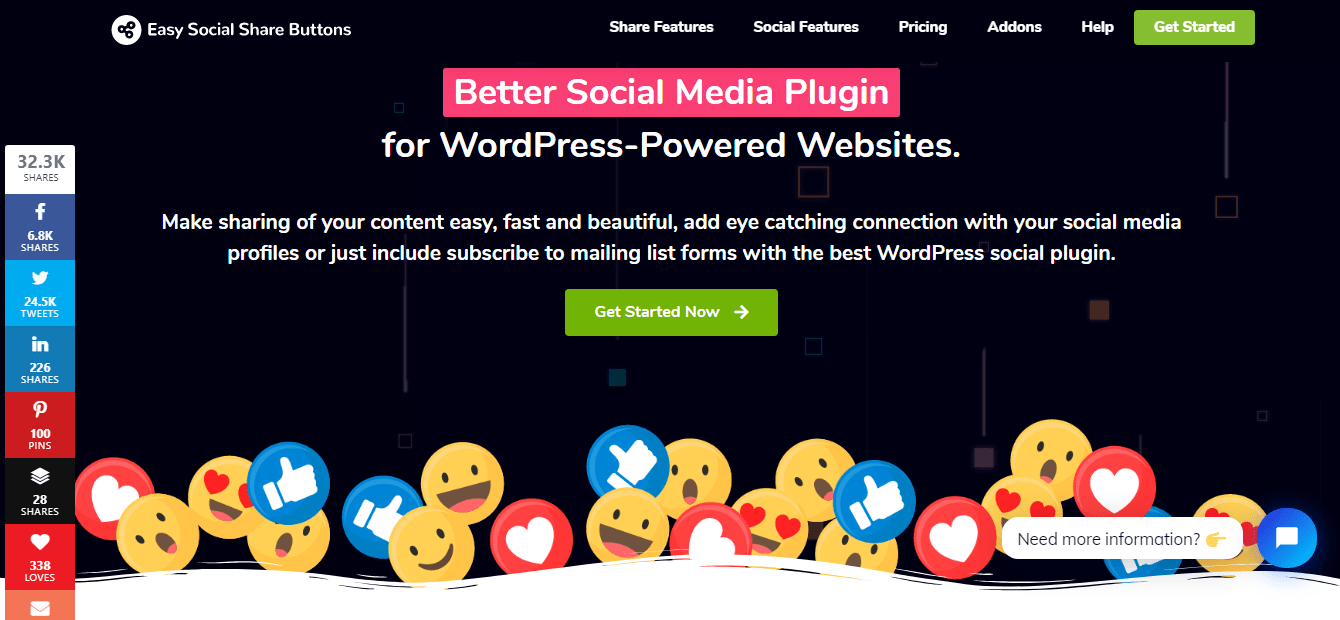 Easy Social Share Buttons
deserves the stand in our WordPress social share plugins list as this impressive plugin can help you to place the social media sharing buttons in an easy way.
This plugin can make it easy to grow your followers, multiply your subscribers, boost your social shares, improve your subscriber's list, and many other powerful features.
Key Features:
Offers unlimited colors and styles options along with detailed customization of share buttons
Allows you to display the total number of social followers count
Provides with an insightful analytics option
Every social sharing buttons are optimized for mobile responsiveness
Offers over 50+ famous social networks and apps to choose from
Facilitate with the Facebook Messenger, Skype live chat, WhatsApp and Viber click to chat features
Supports Instagram feed with the stunning designs and features
Pricing:
The price for this plugin can cost you $22 for its regular license usage from the CodeCanyon marketplace.
Social Share & Locker WordPress Plugin

Social Share & Locker WordPress Plugin
is the superb social sharing plugin for WordPress that can cover all the required features you ever need to get shares for your WordPress website.
Interestingly, this awesome plugin offers the social locker integration that can help you get more social network exposure from your website visitors.
Important Features:
Offers 10 standard templates option
Provides facility for the content locker with 8 predefined themes
There are about 44 social networks available
With the social locker feature, you can easily set a delay time, and even auto-unlock some content after some time. Even you can disable the locker for the registered user as well.
Easy integration with Visual Composer, WooCommerce, BuddyPress, JigoShop, and more
Easy option to view statistical data for your social share
Email Sharing option for your website visitors, if they are looking to share your page directly via email to their friends
Further, there are other enticing features like CSS3 based hover effects, fully responsive social themes, fast social media sharing buttons loading, shortcode generator for social share and social locker, social share counts, and more.
Here our latest article about:
WooCommerce Integration with ARPrice
Pricing:
This plugin can cost $20 for its regular license purchase from the CodeCanyon marketplace.
AddToAny Share Buttons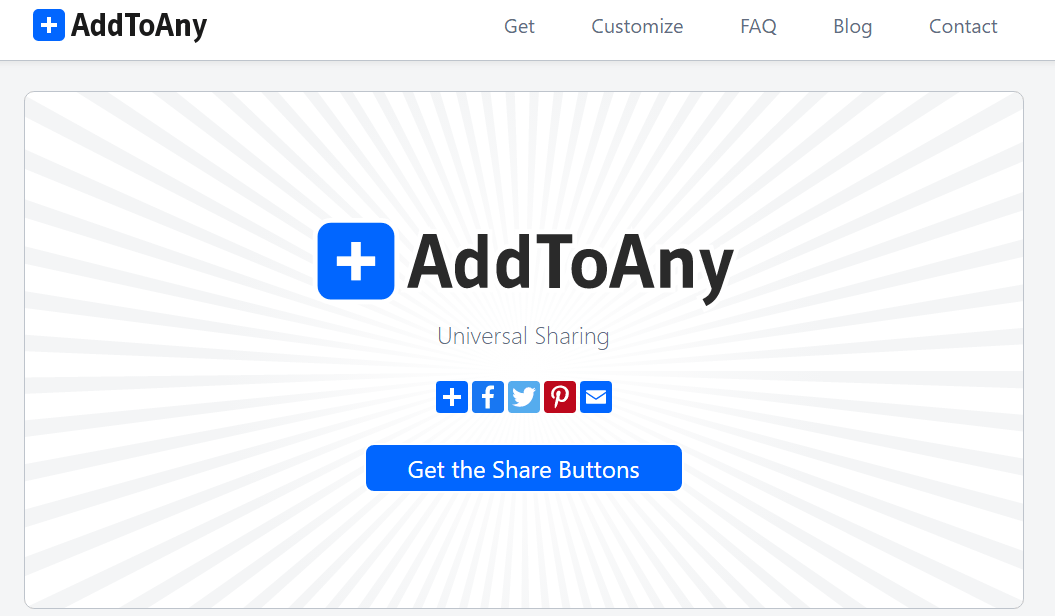 AddToAny Share Buttons
is a remarkable plugin that can help you to increase your visitors and overall traffic and engagement as it allows people to share your posts and pages to the most popular social networks.
This plugin includes the various option for the share buttons, placing button before or after content. It lets you place social share buttons with vertical or horizontal floating share bar.
Have a look at the key features of AddToAny share buttons:
Provides standard and floating share buttons option
Allows you to see the share counter option based on the API availability
Email sharing option that makes it easy to share via email to the visitor's friends and network
Facilitates with the image sharing buttons for sharing images
Adding the social share buttons with the use of shortcodes or Widget within the theme layout
Pricing:
Free of cost to download from Wordpress.org
Share+

Share+
is a much useful social sharing WordPress plugin that can help you place the social sharing buttons which your website visitors can easily share.
This plugin comes with predefined themes and allows you more customization options with simple and clean social sharing buttons to place on your website.
Features list of Share+ WordPress plugin:
5+ share ready-made themes that can be used on the fly
Allows you to track social sharing with the Google Analytics easy integration option
Easy to set up with just a few clicks on your WordPress website
Provides facility to auto-open share+ after your site readers complete reading a page or post. You can also set to auto-open share+ after a period of time.
Pricing:
This plugin can cost $13 and can be purchased from the CodeCanyon marketplace.
Final Words
Finally, after going through this informative article, you might have come to conclude the best-fitted
social media sharing plugin
for WordPress.
Have you found this article an insightful one? Just share it on social networks to show us your support!