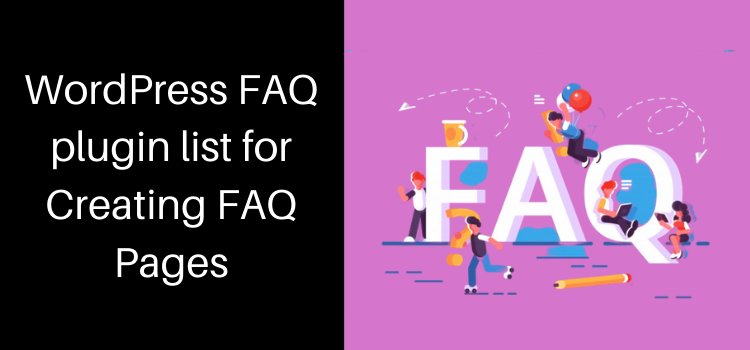 The Ultimate WordPress FAQ plugin list for Creating FAQ Pages in 2023
You might be well aware of this one thing about customers, high-quality customer support is the key to get the business success.
The FAQs (Frequently Asked Questions) play a very vital role in any website to guide visitors and customers in a better way.
Most of the visitors on your website are opting to get their queries solved before they make any purchasing decision.
However, FAQ (Frequently Asked Questions) functionality can be applied to and created with the use of custom code, but doing so will take a lot of your time if you got to do it manually.
So, what should rather be done in that case?
If you are running a WordPress site who is looking to provide a kind of FAQs (Frequently Asked Questions), with the appealing look and feel to draw the attention of your WordPress site visitors then the answer to that question is to simply make use of the quality
FAQ plugins
for your WordPress website.
Having said that, FAQ plugin can help you out to answer your website visitors' concerns and queries right up there without going elsewhere!
Before we move on to the FAQ plugins list for WordPress, let's first understand the importance of an FAQ page on your WordPress website.
Why you should use the FAQ page on your Website?
The importance of customer support is raising the bar now and then. This simply means, when you are helping the people who are looking for more information and easy guidance about your product or services and when they find the appropriate answer from the FAQs of your website, then this will in turn enhance your business success as well.
Meaning, if your customers are having a positive experience with your business, you are more likely to gain their trust over your business.
If your customers have a great experience with your business, then rest assured they will most probably recommend their friends and family members to have a business with you.
Having said that, managing support requests is not an easy thing by itself, rather it may require a lot of resources and efforts that work towards answering the questions.
Especially, if you want to build resource-oriented customer support that works 24/7, then it would be quite hard to do so!
Hence, answering your customer's queries with the FAQ's so the customer doesn't need to contact you could be wiser option to go for because answering questions with the FAQs right away on your website means your customers will be able to sort out the issue by themselves while looking on your FAQs on your website.
Further, we will discuss some of the best in class WordPress FAQ plugins with the use of which you can ensure that your customers and your website visitors will never have to wait for solving their issues!
Let's jump to the plugins list!
Heroic WordPress FAQs Plugin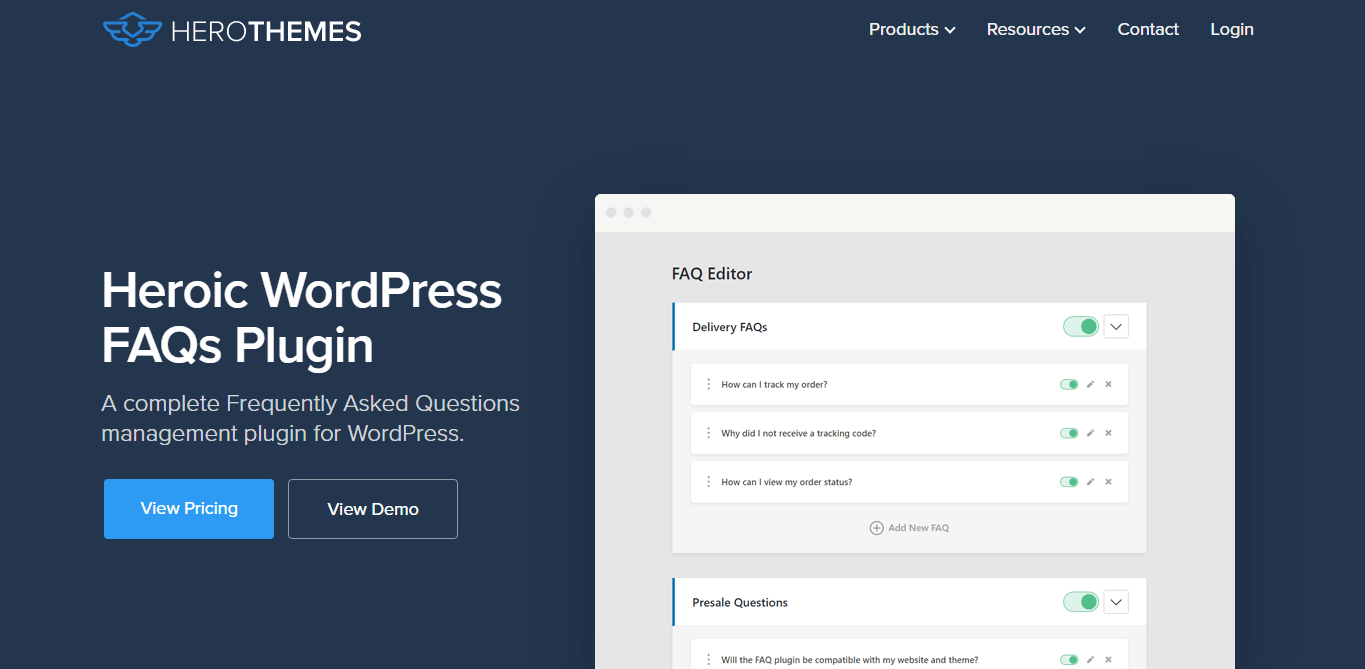 Heroic WordPress FAQs Plugin
is an entire Frequently Asked Questions (FAQs) management plugin for WordPress.
With the best drag and drop interface, one-page simplicity, visual editor, and to customize your FAQs, Heroic WordPress FAQs Plugin let you do everything to showcase the desired FAQs styles with customization option.
Whether you want to show images/videos to FAQs, show the group FAQs, Accordion to toggle FAQ type, or if you want to show the custom FAQ ordering, you can set it all as per your needs.
Interestingly, this awesome plugin bestows with the features like 15 FAQ icons to choose, CSS3 animations, 5 pre-defined FAQ styles, Schema.org for boosting SEO, and many more advanced level features. On a positive side, this plugin offers a 30 Days money back Guarantee for the plugin's premium version.
Pricing:
The pricing for the Basic version of this plugin starts at $49 for a single site usage (1-year Update and Support)
Ultimate FAQ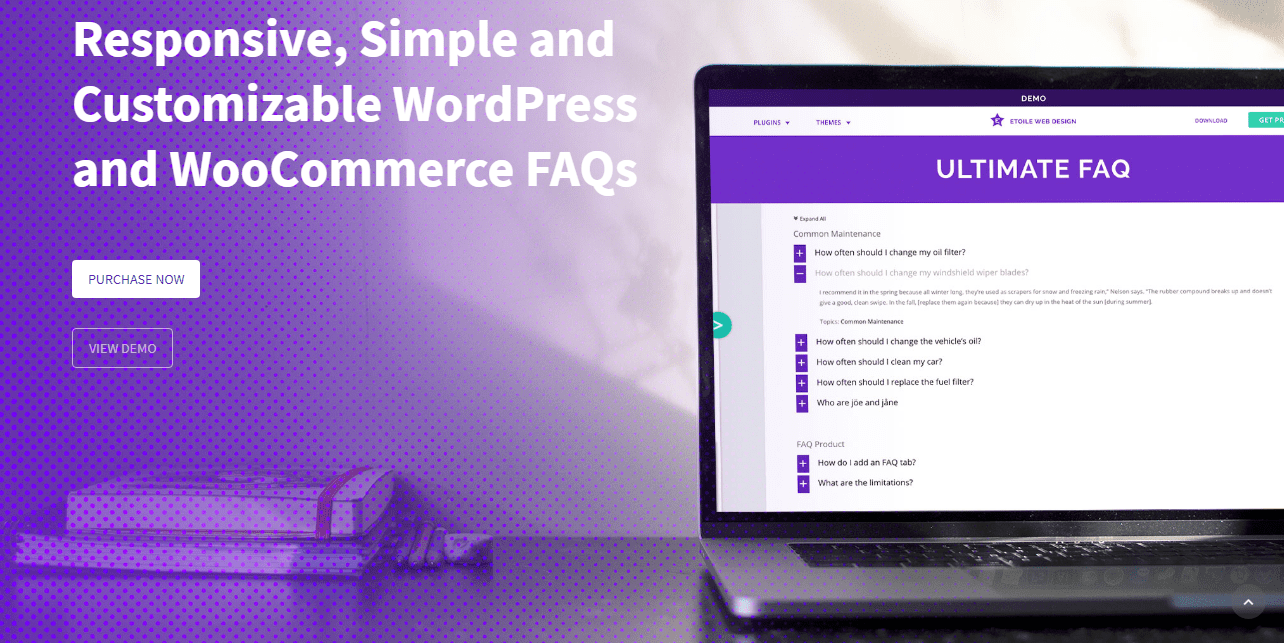 Ultimate FAQ
is one of its kind WordPress FAQ plugin that allows you to create, organize and publish your FAQs (Frequently Asked Questions) on the fly in a hassle-free manner.
This plugin is simple to set-up and it provides easy customization options with a responsive design. The key features of the
Ultimate FAQ
WordPress FAQ Plugin consist of adding unlimited FAQs, creating FAQs categories and tag, creating FAQs posts, Accordion FAQ layout support, and you can also insert custom CSS for styling your FAQs.
Plus, there are more impressive features like toggle FAQ accordion, allowing people to comment on the FAQ, Gutenberg FAQ block, grouping FAQ by categories, and many more features.
Pricing:
This plugins basic plan can cost $30 for single site usage.
WP Responsive FAQ with Category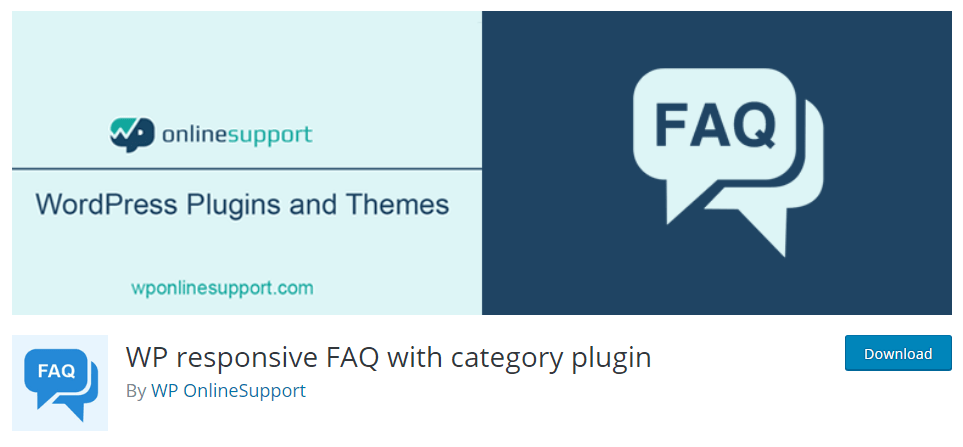 WP Responsive FAQ with Category
is an effective WordPress FAQ plugin that offers the FAQ section with a responsive design from where the customers could find it easy to solve their issues.
The premium version of this plugin offers plenty of useful features like FAQ shortcodes to provide output to the front end side, modifying plugin HTML or design in your current WordPress theme, arranging your FAQ with your desired sequence, works well with Gutenberg editor, Visual composer page builder support, WooCommerce support,
custom CSS
editor, exclude some FAQ for particular categories, displaying FAQ accordion with date, title, etc, Grid layout for category wise FAQ, show read more/less button, and many more features.
Pricing:
This plugin is available for free and paid version both. The premium version of this plugin can cost $49 for unlimited sites (1 Year of support and updates available)
Quick and Easy FAQs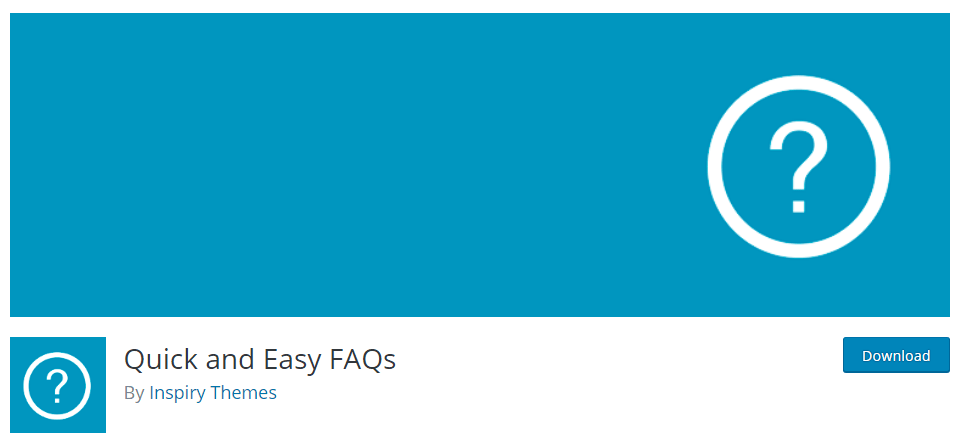 Quick and Easy FAQs
is a free WordPress FAQ plugin that provides a quick and easy way to add the FAQs with the use of custom post types.
With the use of Quick and Easy FAQ WordPress plugin, you can effortlessly display the FAQs using the Gutenberg Blocks, or even this amazing plugin lets you make use of the shortcodes as well.
Whether you want to display the FAQs in groups, in filterable groups, or if you want to sort by title or date, you can easily do that all. On the other hand, Quick and Easy FAQ plugin allows the customization for the colors and other things from settings so that you can easily select your desired design, fonts, colors, and more stuff to match your current theme.
Pricing:
This plugin is free of cost to use
Easy Accordion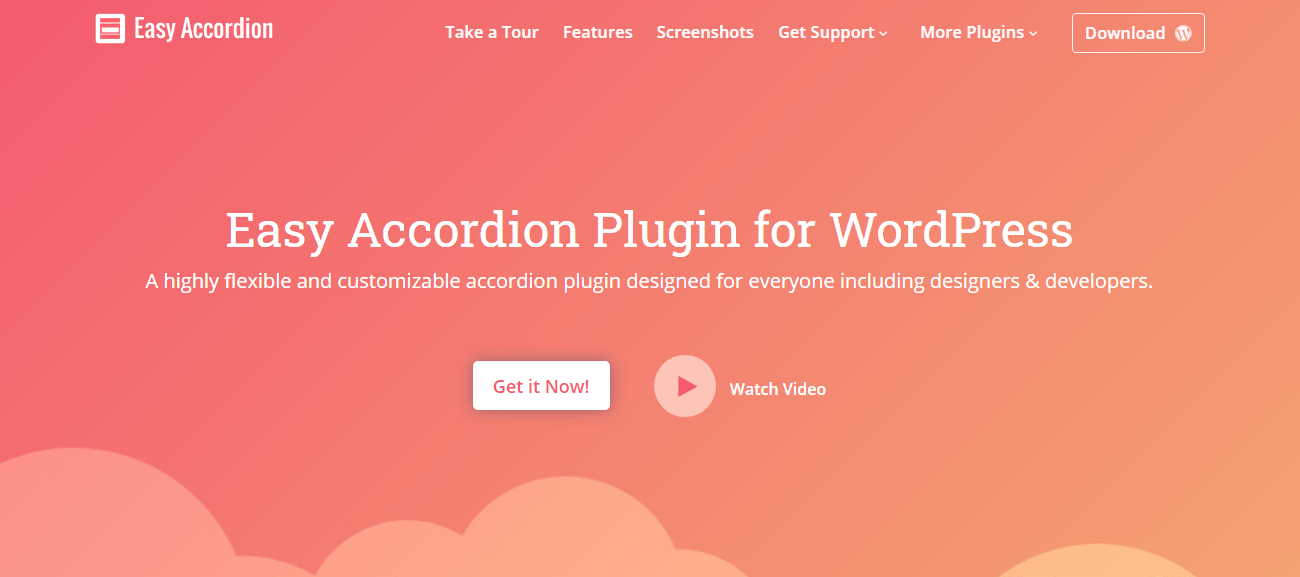 Easy Accordion
is a lightweight and fast plugin for WordPress that is a highly customizable accordion FAQ plugin.
Having said that, even if you are a non-tech savvy person looking to build professional-looking accordion FAQs, then this is the plugin on which you can completely rely upon as it offers a plethora of features you might opt for in a FAQ plugin.
From advanced shortcode generator, clean and intuitive admin panel, 14+ expand and collapse Fontawesome icon styles, 25+ smooth animation and effects, Autoplay accordion, Widget, and RTL ready, WooCommerce FAQ or Q & A Accordion tab, Schema support for FAQ, supports Page builders like WPBakery,
Elementor
, Divi Builder and many more features are supported in Easy Accordion Pro.
Pricing:
The free and paid versions are both available for this plugin to download. The personal plan for the Easy Accordion Pro version starts at $29 for a single site usage (Lifetime support and update).
Fancy FAQ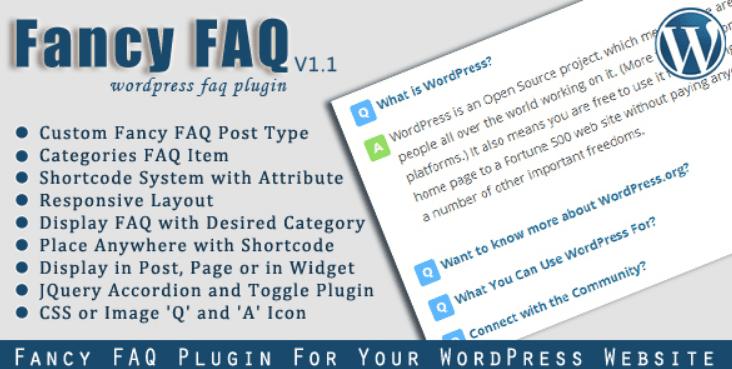 Fancy FAQ
is an impressive Frequently Asked Question management plugin for WordPress provides adding custom posts type with category taxonomy to easily add FAQ sections to your WordPress website.
Having said that, this plugin is completely responsive so that your FAQ section can look perfect on any devices, whether on mobile phones or tablets, it provides automatically responsive layout. Plus, with the use of this plugin, you can create and add the FAQs on any pages or posts with the simple use of shortcodes offered by the plugin.
Pricing:
This plugin can cost $19 for a regular license.
HTML5 Responsive FAQ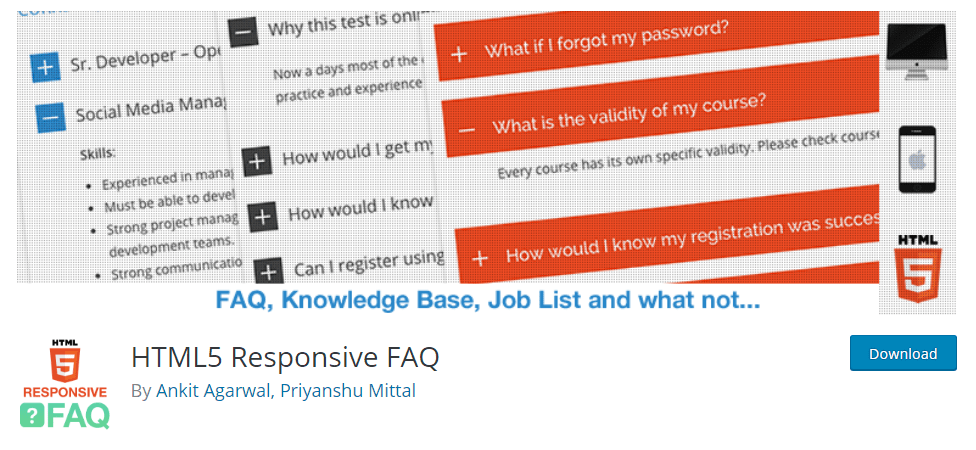 HTML5 Responsive FAQ
is a WordPress FAQ plugin that allows you to add FAQs on your WordPress website easily. A great thing about this plugin is that it is compatible with all the responsive themes. This plugin can let you create multiple category FAQs, you can use them all together on one page or either by category wise.
If you want to have a Frequently Asked Questions (FAQs) section to the sidebar with the use of sidebar widget on your WordPress website, or if you want to add a full page, you can easily show that.
With the HTML5 Responsive FAQ plugin, you will have complete responsive FAQs, FAQ categories, and personalization categories titles, shortcodes, and accordion styles.
Pricing:
This plugin is entirely free of cost to use.
Wrapping Up
That's all! When you are providing support to the customers it could be a smart step from your side if you imply the best-suited plugin from the given list of WordPress FAQ plugins as setting up the entire FAQ section has just got easier with the use of these plugins.
Incorporating any of the plugins that suit best for your business is a lot easier than to get it done manually because ultimately these plugins can help you grow your business revenue.
Have you got any questions about implementing the WordPress FAQ page? Then let us know in the comment section given below, we will help you out!