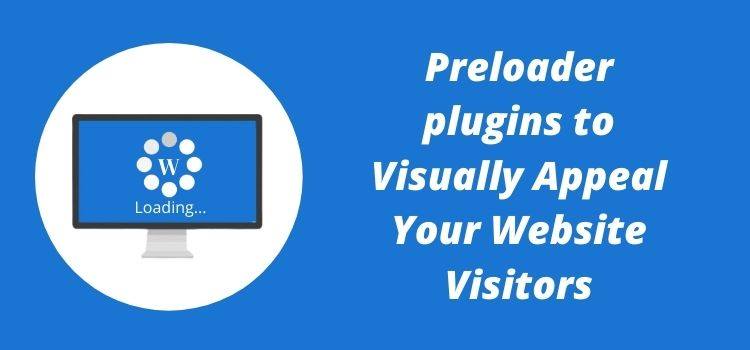 5 WordPress Preloader plugins to Visually Appeal Your Website Visitors
As a webmaster, you should always focus on
building a website
that can leave with a great impression on your website visitors.
To grab visitor's attention, you can keep on adding attractive images, call-to-actions, and with the eye-catchy elements that can engage the visitors of your website.
Especially, you should prioritize providing a better user experience (UX) when a visitor first enters your website.
Having said that, a preloader can be a great solution to apply it on your WordPress website as it can appeal to your website visitors visually with a positive experience even if it takes time to load.
Here in this article, we will discuss you with the impressive WordPress Preloader plugins list that can help you to attract your WordPress website visitors to stick on your website without going elsewhere.
Let's begin!
What is the Use of Preloader on your WordPress website?
If your website pages have more hefty content, then you will get an advantage from the preloader for your website.
In short, a preloader is in the form of an animation that is displayed at the time of page loading time in the background.
Normally, some parts of the content on your website pages like HTML, and text can load faster whereas some heavy images and videos may take time to load.
If your
website loads slower finally making your users wait a long
, then it can be bad for the user experience, and sometimes they will even result in leaving your website.
To overcome those slow loading site barriers, adding a preloader can be a great way that shows visitors of your website pages a progress indicator during the page load.
Additionally, a preloader is a creative way to load screen animations that is an effective way to make your website visitors wait for a long time even if the loading time is slow.
How to use the Preloader Animations?
Gone are the days for some simple looking loading spinners and progress bar as businesses have evolved themselves with creative loading screens that can shed some extra lights with some customization that looks like a pro.
Preloader animations with a simple icon, logo, or image can be used for a website that takes a shorter loading time whereas, for a website that takes a higher loading time, it's better to get some extra creativity.
Creative content
in front of visitors can draw their attention to your website.
On the other hand, doing so will give your brand a better room in their minds to stick for a longer time.
Further, we will discuss some of the
effective WordPress preloader plugins
lists that will help you to grab your website, visitors, attention, and stay stick to it.
Best WordPress Preloader plugins:
Loftloader Pro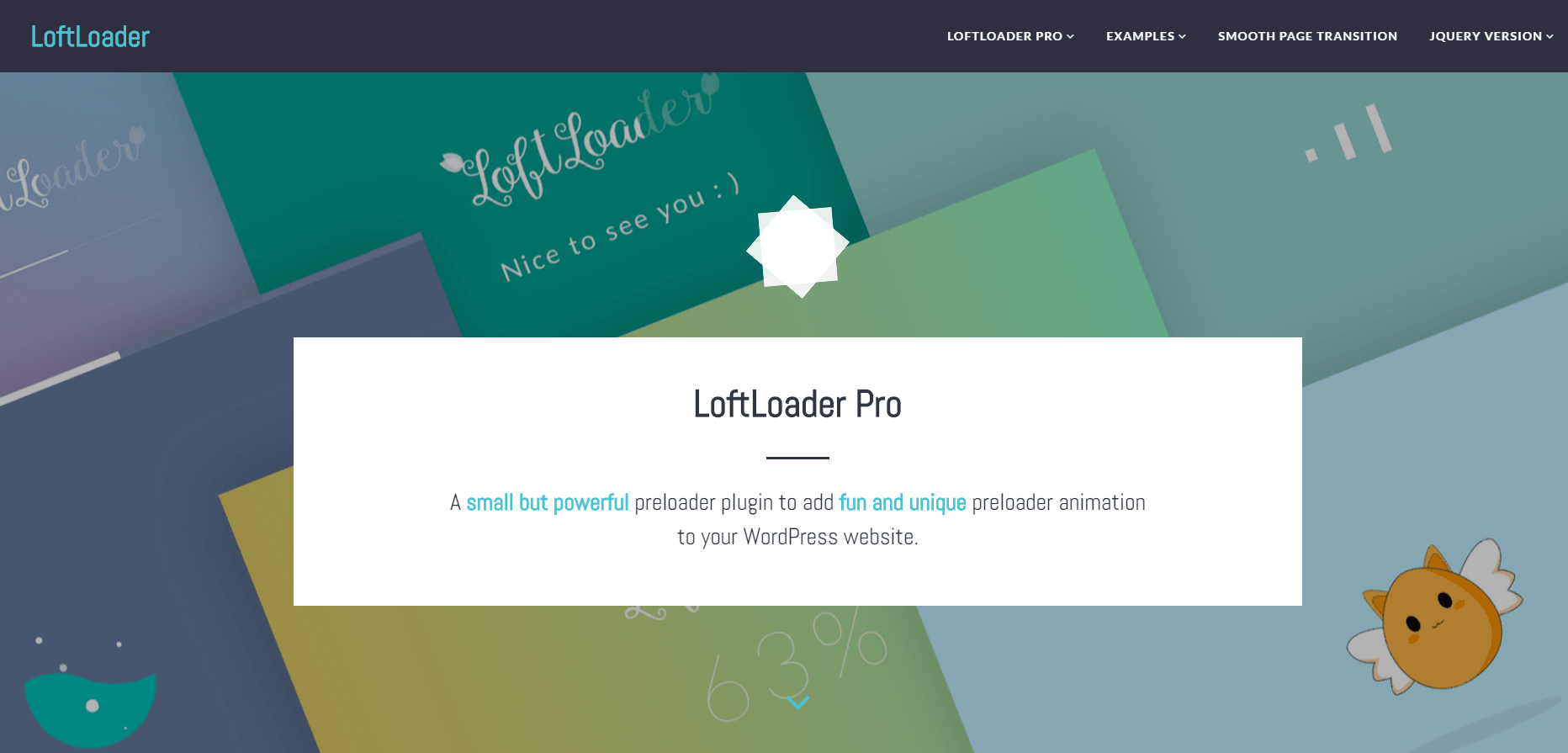 Loftloader Pro
is a super powerful preloader plugin for WordPress that helps you to add the stunning animated preloader to your WordPress website powered by LoftOcean.
The beauty of this amazing plugin is that you have complete control over the look and feel of the preloader without even touching any coding.
Besides, this amazing plugin offers many features in the plugin's light version like CSS3 animations, unlimited background, unlimited loader color, ending animation effects.
While the Pro version of this plugin includes a handful of unique features like:


To choose from 19 types of animations where 6 of them supports custom images option.


On/Off toggle button to choose for displaying or hiding the preloader.


Animation can be set to loop for a short time or continuous for endless time till the page loads.


Comes with retina ready and designs (No GIFs).


Fully responsive designs on any devices


Allows seamless background setting options


Let's you choose progress bar, percentage count, or even both at a time


Enter your custom welcome message or loading message to showcase.


Provides you with one click smooth transition whenever visitor leaves a web page
Pricing:
This plugin offers both a free and paid version. The pro version of Loft Loader can cost $26 for its regular license with the 6 months support from LoftOcean.
Ultimate WordPress Preloader

Ultimate WordPress Preloader
is an eye-catchy WordPress preloader plugin that allows you to easily add an animated preloader to your WordPress website.
With this awesome plugin, you will be amazed to check so many of the preloader styles that you can use with the different color styling and sizing options.
What's even more interesting is its powerful control panel that lets you choose from unlimited colors, preloader size, and many more options.
Let's have a glance at some of the impressive features of the Ultimate WordPress Preloader plugin:


Offers you with 99 preloader styles with any color and size of your choice


Unlimited color options for background and preloader


Allows you to choose 4 preloaders sized from a small, medium, large, and extra-large


Live Preview customizer to see your changes in real-time


Facilitates the custom image preloader where you can upload your own choice of image


Fully responsive and retina ready designs


Supports and works in any of the modern browser
Pricing:
This plugin offers both lite version which is free to download from Wordpress.org plugin repository whereas the pro version of this plugin can cost $24 for its regular license usage.
WordPress Preloader Unlimited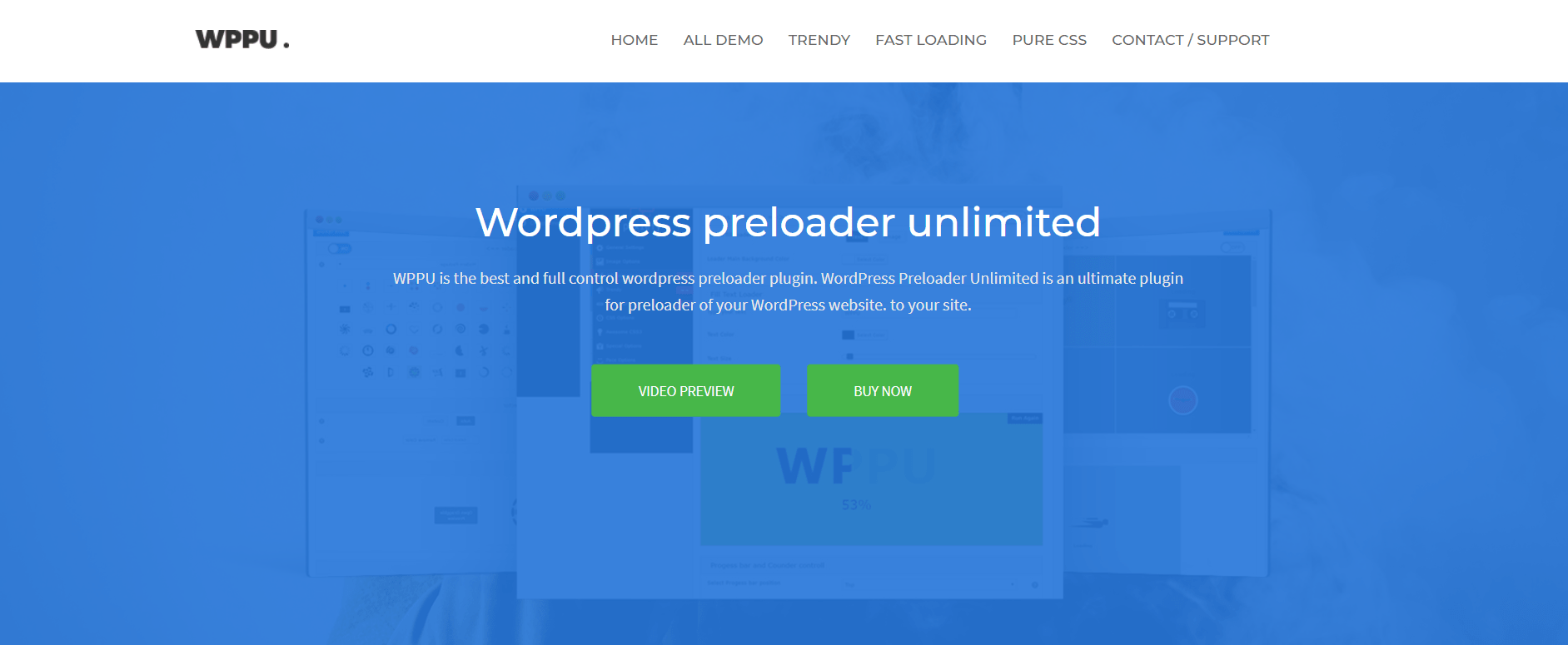 WordPress Preloader Unlimited
is the most advanced yet premium preloader for WordPress. Whether it's about the fast trendy preloaders, or if it is about choosing the unlimited CSS3 animation, this plugin provides you all the features that a premium WordPress preloader plugin must-have.
Features of WordPress Preloader Unlimited Plugin:


Offers you with more than 500+ pre-built preloaders that you can customize as per your choice


Provides you with the 5 different options to change from various preloader styles


Facilitates you the unlimited variations and custom creation options


Allows you the option to show/hide the preloaders on any page of your website you want with a simple checkbox option


Offers you with 2D or 3D styles for text or letters animation loader for your site.


Unlimited CSS3 animation
Pricing:
This plugin costs a nominal price of $17 for its regular license.
PreLoader Plus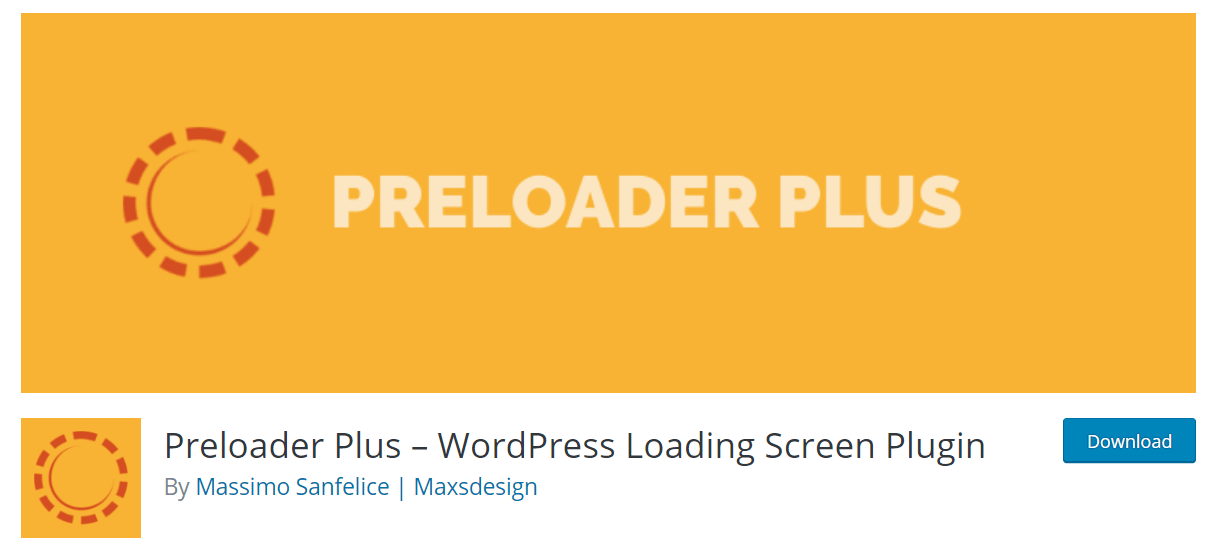 Preloader Plus
is an impressive WordPress preloader plugin that allows you to show a preloader while your WordPress website page is loading.
You can make use of this plugin to showcase a welcome screen to engage your website visitors. Preloader plus is integrated into the WordPress customizer so your changes can be immediately shown on the same screen.
Preloader plus works almost on every browser, any themes, and devices.
Key Features of Preloader Plus:


Allows you to show the preloader on every page or just the homepage


You can add any custom image of your choice as it supports image formats like jpg, png, GIF, and SVG.


Show the progress bar, and set the size, color, and position of it.


Allows you to add custom content with the use of HTML and shortcodes


You can easily set the preloader animations opacity, direction, scaling, and distance


Allows you to set animation duration and delay
Pricing:
This plugin is free to download from WordPress.org
WP Smart Preloader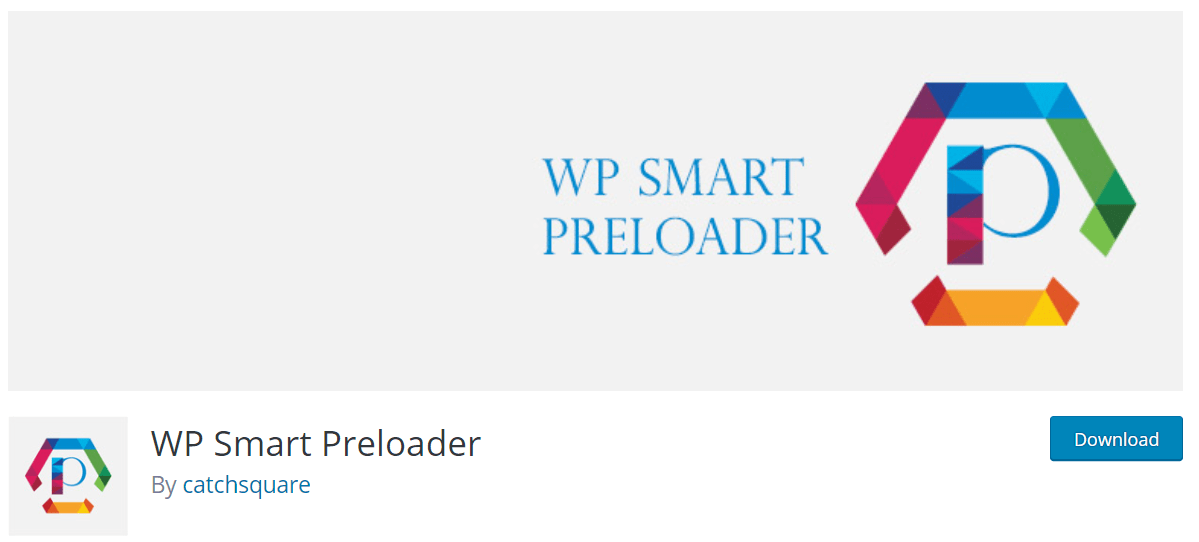 WP Smart Preloader
is a simple and easy to use WordPress preloader plugin that can be used to display a preloader on your WordPress website.
Moreover, this plugin offers many useful features like:


Fully responsive and cross browsers compatibility


Supports CSS preloader


Provides full customization option


Supports icon to circle preloader style
Pricing:
Free
Final Words
Finally, preloaders can be the go-to option if your WordPress site takes a higher loading time. Going through the above-mentioned preloader plugins for WordPress, you can easily find your most likely preloader plugin to apply on your WordPress site.
If you found this article a useful read, then do share it with your friends and colleagues so they can gain some insights about the preloader and its usage.