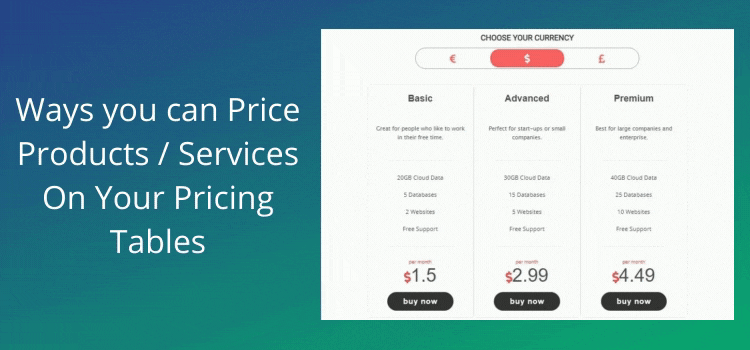 Enticing Ways you can Price Products or Services On Your Pricing Tables
In today's fast emerging tech world, people are more curious to rely upon purchasing products or services online where they can find great value over a brand.
Having said that, the pricing page is among the key pages of your website. Hence, the pricing tables become the obvious thing to put on your website pricing page.
Due to a hectic day to the day time schedule, your visitors may seem to act most likely to go for the pricing options that shows the urgency (such as a limited-time discount). So, businesses are coming across more and more with the FOMO (Fear Of Missing Out) pricing plans that highlight the urgency messages.
That is one aspect to look for when it comes to setting the price for your products or services. Besides, there are many more important aspects when it comes to optimizing the pricing plans.
On the flip side, when it comes to different businesses, there is no such thing as one price fits all!
So, pricing plan optimization becomes a sure thing to do!
Today, in this article, we are going to discuss how to price your products or services effectively for your different pricing tables:
Let's jump to the list!
Effective Ways to Price your Products / Services for Pricing Tables
Creating a Price for your Products or Services that Stands Out!
As we know that price is the first thing that every user wants to look at!
So, whether you are running a B2B business website or if it is a B2C website, you should always make your first step to focus on a pricing plan that can benefit your website visitors and appeal to them most!
On the other hand, you should try to leverage your prospects to purchase your products/services by adding some value giving points. Some of the points you can mention on your pricing tables that can draw your visitor's attention towards what you are offering for your products or services are:
Including security information such as badges, and security seals so that customers feel safe to buy
Adding information about the licenses, certifications, and user-friendly return policy things like highlighting the money-back guarantee
Highlighting with the client's testimonials to influence visitors and build more trust over your products/services.
Pro Tip:
Don't ever try to hide your pricing plans from your visitors! You should always make sure to show your pricing plans as clear and as quickly as possible on your pricing tables. Because hiding the price can distract your visitors and lose the trust of them in your products or services.
Showcasing Pricing plans options
It is good to give your website visitors multiple pricing plan options and with different column based. That is, by showcasing them from basic levels of pricing plans to the higher levels of pricing plans.
Having said so, you need to make sure that you do not overdo or exaggerate with so many of the pricing tables. Because doing so, you are ultimately leaving money on the table.
Why is that so?
Just because, giving too many of the pricing plan options can leave your customers in confusion for which one to choose.
Instead, you should try to simplify your pricing tables with
a maximum of three to four column-based pricing plan options
.
Have a look at the image below that shows the perfect example of
Hosting plans
with the different pricing plans options, mainly within (3 – 4 column options)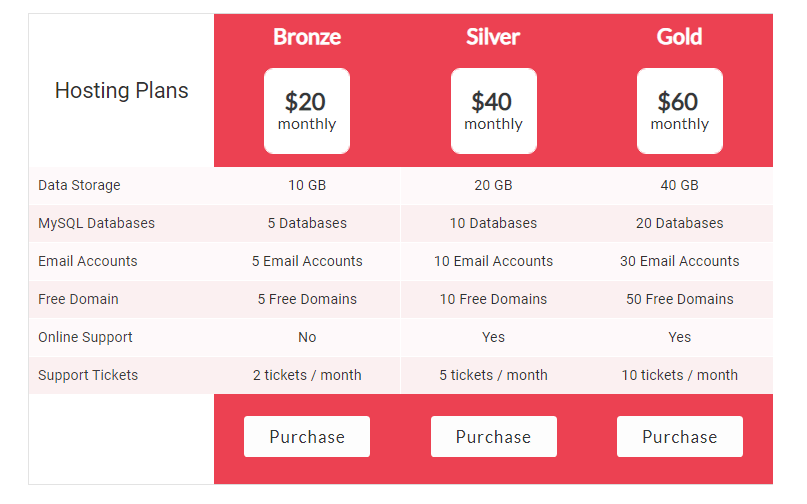 Offering a Yearly Payment Plan
If you allow your users to pay for the annual payment plan, then that could be great for generating more revenue.
Better yet, with the annual payment plan offering, you can add an additional discount to incentivize your visitors.
In fact, people tend to love such discount options and probably show their interest to buy your annual pricing plan for your products or services you offer.
Let's have a glance at the below-given image!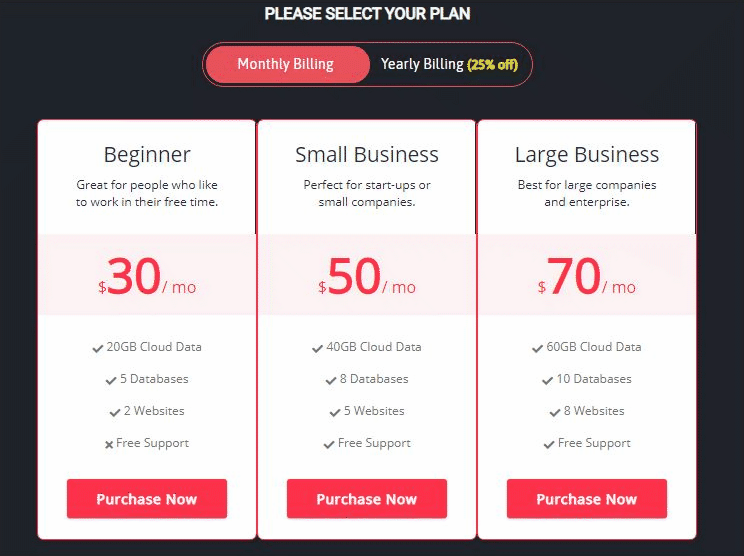 Switching to different Currency Option
Yes, you heard it right, for most of the people who are looking to shop online for their required products or services, they may want to get the price in their
local currency
.
What should be done in such a case is that you can opt for your visitors with an option to switch to their required currency that they want to along with the price change on your different levels of pricing tables.
Doing so will allow them to know what exactly are they going to pay for your product or services!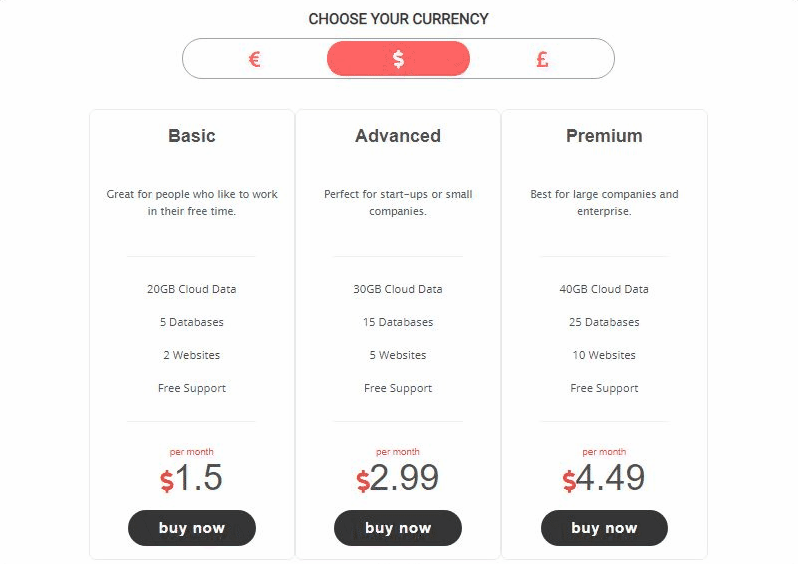 Making Use of Easy to Understand Language
While you are creating your pricing tables, you need to make sure that you are using a simple and easy to understand language that visitors can easily decide while at the time of making their purchase.
With that being said, you should not make use of the comprehensive words that are even hard to understand what you are offering!
Offering a free trial access
When it comes to effective marketing tactics for the pricing plans, you should ensure about offering free trial access.
It totally makes sense to allow free trial access for your product or services unless for some specific business that can't offer a free trial.
One of the key advantages of offering free trial access along with your different pricing tables option is that with the free trial offer, you can turn those free trials into sales for your other paid plans option and keep flowing more revenue for your business.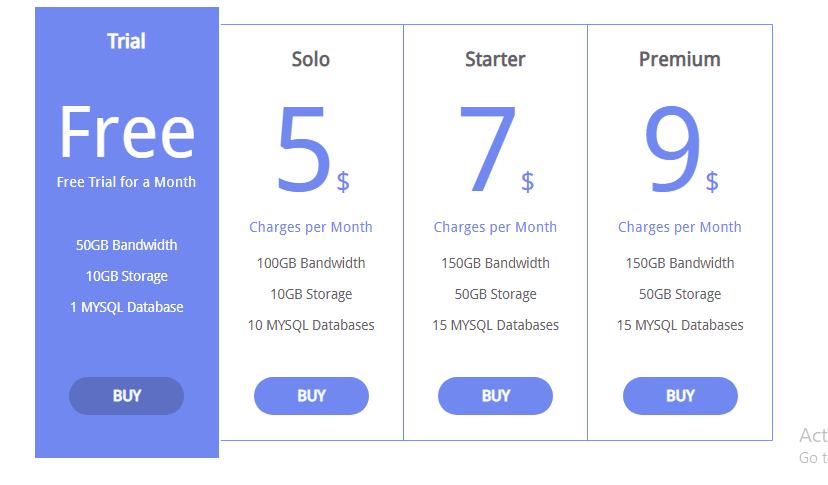 Using the Anchor Prices
Well, price anchoring can be one of the most usual tactics that many businesses use in their pricing tables.
Now, what exactly is an Anchor price mean?
To say it in brief, the anchor price is to display the higher price plan first, so that the higher price packages can be visible first and then the lower-priced packages for your pricing tables.
In most cases, the people's attention is drawn towards the first piece of information as the base of judging and making their final decision from other information.
In fact, you could try applying the Anchor Prices by highlighting it as the best pricing plan among your other pricing table plans.
Now, to have a closer look at that here is a great example of showing your pricing plans from the most expensive prices to the least expensive pricing plans. See the image below that shows yearly, quarterly, monthly, and monthly pricing tables from high to low pricing plans: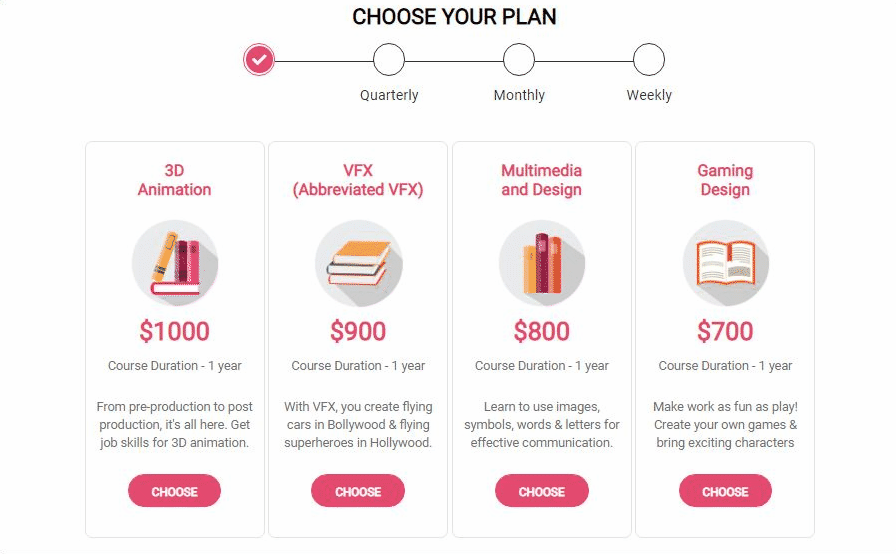 Highlighting the Most Popular Pricing Plan Option
For your different pricing plan packages, if you want to get your visitor's attention to that one plan that you want them to buy, then you can design your desired pricing table and make it stand out simply by highlighting it as the
Most Popular
package by giving it a unique color.
Let's have a look at how it's displayed using the
ARPrice WordPress pricing table plugin
: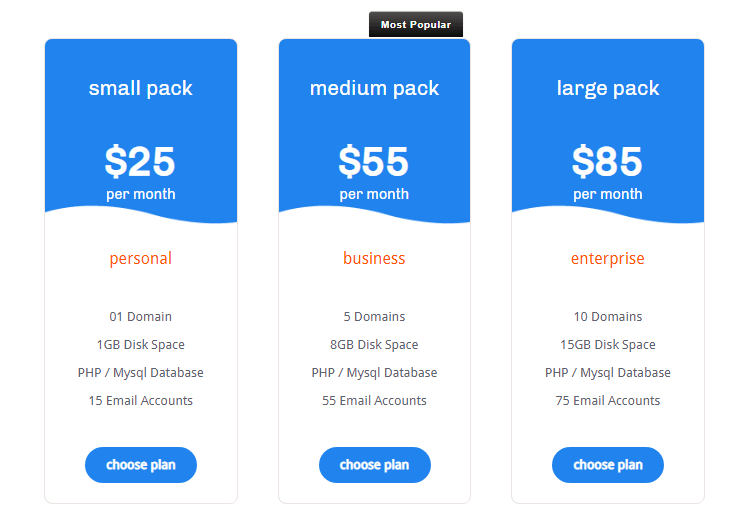 Consider your Buyers Persona While Creating your Pricing Plans
Identifying and knowing your buyer's persona can be an effective marketing strategy that can help you to know about the interest of your visitors.
Buyers' persona can be considered from gathering the visitor's information on the basis of their age, gender, demographics, education, job role, and more.
Back and forth, when you figure out your audience, it becomes easy for you to create pricing plans and packages that can actually meet their needs.
Final Words
That all for this article! Now, as you have gone through all the points for creating effective pricing tables, you can rest assured to implement the best pricing plans and packages that work best for your business, and accordingly, you should plan to implement it on your business website.
If you found this post a useful read, then do not hesitate to share it on your social media channels.
Click here to know about
8 of the Incredible Facebook Statistics that Every Marketer Should Know