7 Ultimate WordPress Mapping Plugins List 2023
Ever wondered why maps are getting more and more spotlight these days to be considered on a website?
Especially, when you have business with multiple locations and you want to make it a stand out that can draw people's attention, then one thing you must do is to display your business locations on your WordPress website.
For that, a map can help people to reach their destination in a hassle-free way. You can showcase it on the contact us page of
your website
.
If you still think that why you should showcase a map on your WordPress site, then here are some interesting facts that you should know!
As per the
Google Maps statistics
, the Google Maps usage for the live website is more than 5.2 million across the globe.
So, if you haven't started using a mapping plugin for your WordPress site, then this is the time you should give people an efficient way to travel to your business locations with the use of WordPress mapping plugins into your WordPress site.
What is the Use of Mapping Plugins for WordPress?
For the website owners, Google Maps provides a Google Map API with an embedded code that can help them to get a simple visual map.
Want to know how you can get a Google Maps API though?
From the past few years now, Google requires website owners to make usage of Google Maps by acquiring an API key.
Google provides $200 of free monthly usage for its users. For that, you will need to sign up for
Google Maps Platform
first from Google Cloud.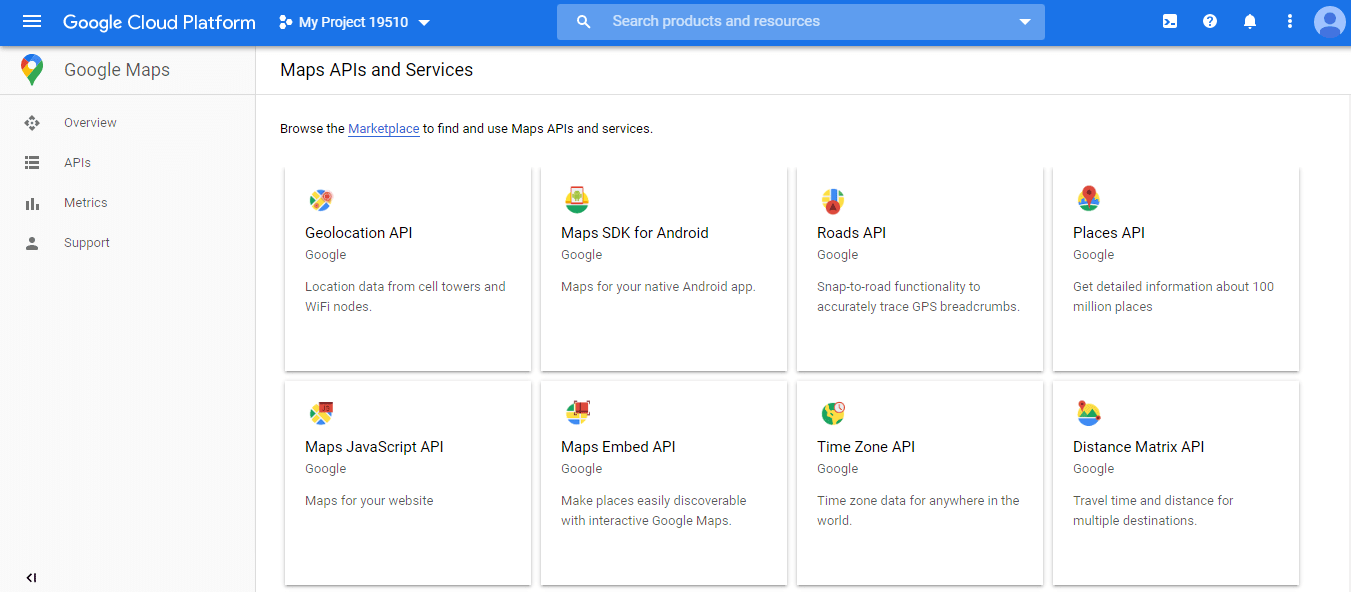 The thing is, it simply ends up with that, by displaying just a simple map.
This means it doesn't allow you any extra advanced features. Hence, to tackle that, you can gain some advanced level features with the installation of a mapping plugin for your WordPress site.
So, let's have a look at the best WordPress mapping plugins list!
MapSVG
MapSVG
is one of the powerful WordPress mapping plugins that can help your custom content. With the use of this amazing plugin, you can download any of the given
100+ countries vector maps
and make it interactive with MapSVG.
Besides, the plugin allows you to show location on the map simply by adding longitude/latitude or by entering the address.
Whether you want to attach objects to map region, display a list of objects with filters, add Google Maps API key, add custom CSS, set colors, select actions like (On Map load, Region Click, Region touch, Marker Click), and more.
Furthermore, if you want to have a better overview of how it works, then MapSVG also provides a free
WP-Admin Demo
for its users so that they can get good hands on it.
No matter what your business is, whether it's a real estate, showcase different store locator, real estate, floor plan, or be it the data visualization, this plugin fits best for defining them all.
Pricing:
This plugin can cost $49 for a regular license from the Envato market place.
Interactive Geo Maps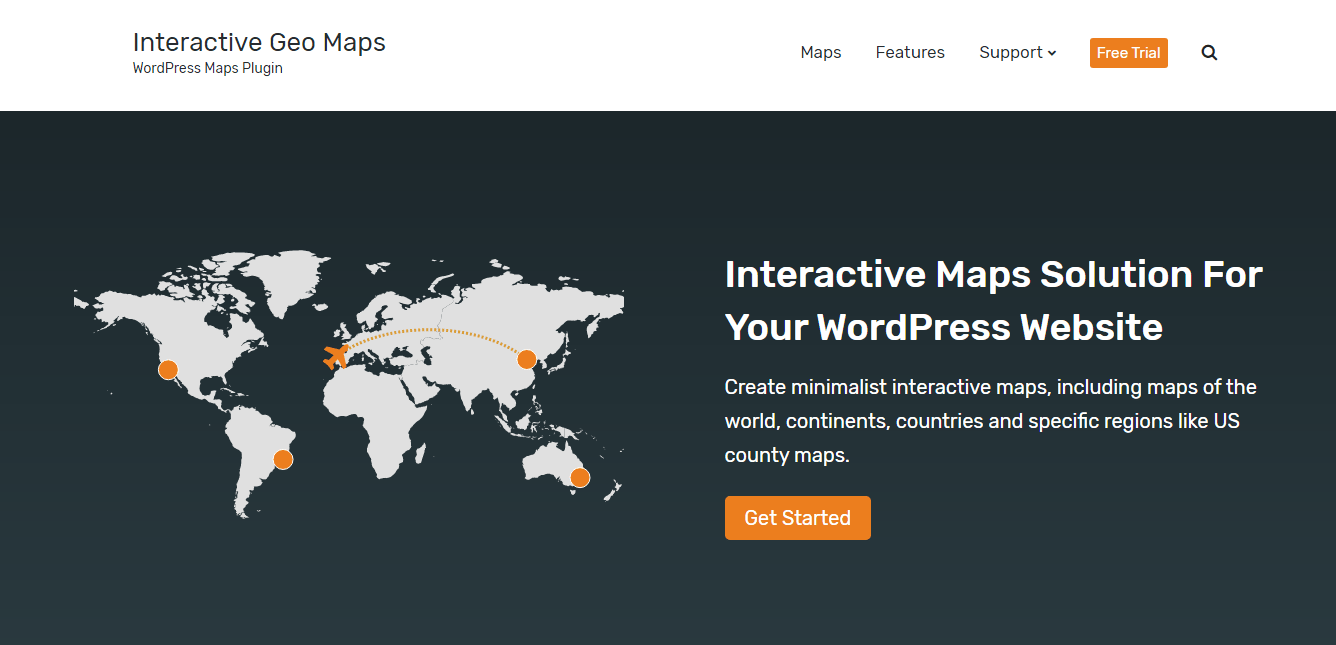 Interactive Geo Maps
s another amazing WordPress map plugin that can be used to build interactive maps of the world, continent, countries, and certain regions.
Whether you have a travel website and want to show the countries and places you visited on your article or if you want to display various offices, store, or the number of branches for your business website, you can add it all on the map with the use of an interactive marker to point out the locations.
Pricing:
This plugin has both a free and pro version. The pro version costs $2.49/month.
WP Google Maps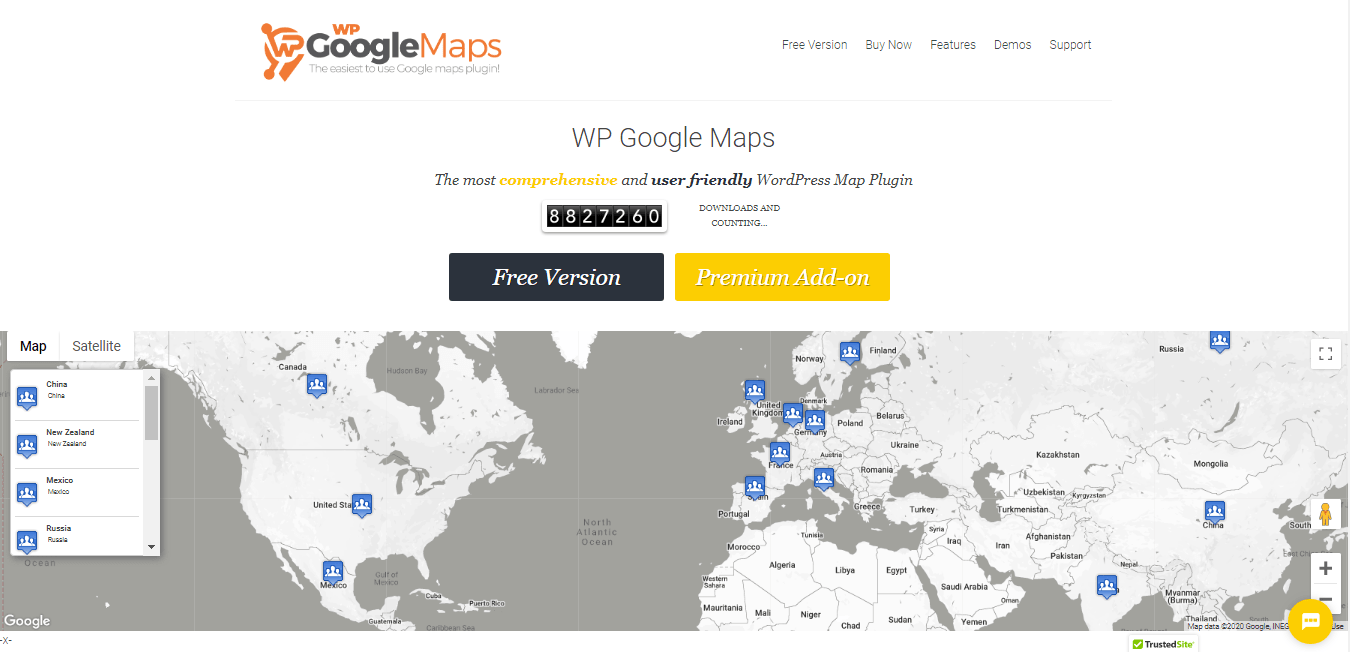 WP Google Maps
is an easy-to-use and user-friendly WordPress mapping plugin.
Amazingly, this plugin has a great customer response with almost 400k active installation having more than
1.8k customer reviews
with 5-star ratings.
With that being said, the latest version of this amazing plugin has so many advanced rich-features such as open layer directions to get directions, marker ratings that allow users to leave ratings, new marker listing styles, allows you to show Advanced Custom Field location on one map, WooCommerce integration to display all your products on maps, marker galleries to add multiple pictures to one marker, adding videos to your markers, store locator, and polygons/polylines.
Additionally, just like the above features, you can also get thousands of FontAwesome icons of ultra-modern markers for your maps.
Pricing:
Both free and paid versions are available for this plugin. The pro version cost starts from $39.99 for a lifetime (up to 3 sites).
Mapify
Mapify
is the absolute WordPress mapping plugin that has dozens of features to help your site visitors have a great experience as it has a store locator that can help your customers to find your products in a hassle freeway.
Just like that, this plugin offers a handful of amazing features like fully responsive WordPress maps that can be pinch, zoom, swipe through galleries and locations, customizing maps tooltips, search by GPS coordinates, zip, city, or country, supports detailed location info, map clusters, display blog post to your maps, search map location by radius, animated tooltips, and map markers, and much more.
Likewise, there are easy maps shortcodes that are automatically generated and can be placed anywhere on your site.
Pricing:
Both free and PRO versions are available. The pro version starts at $19/month for a normal license.
WPGMP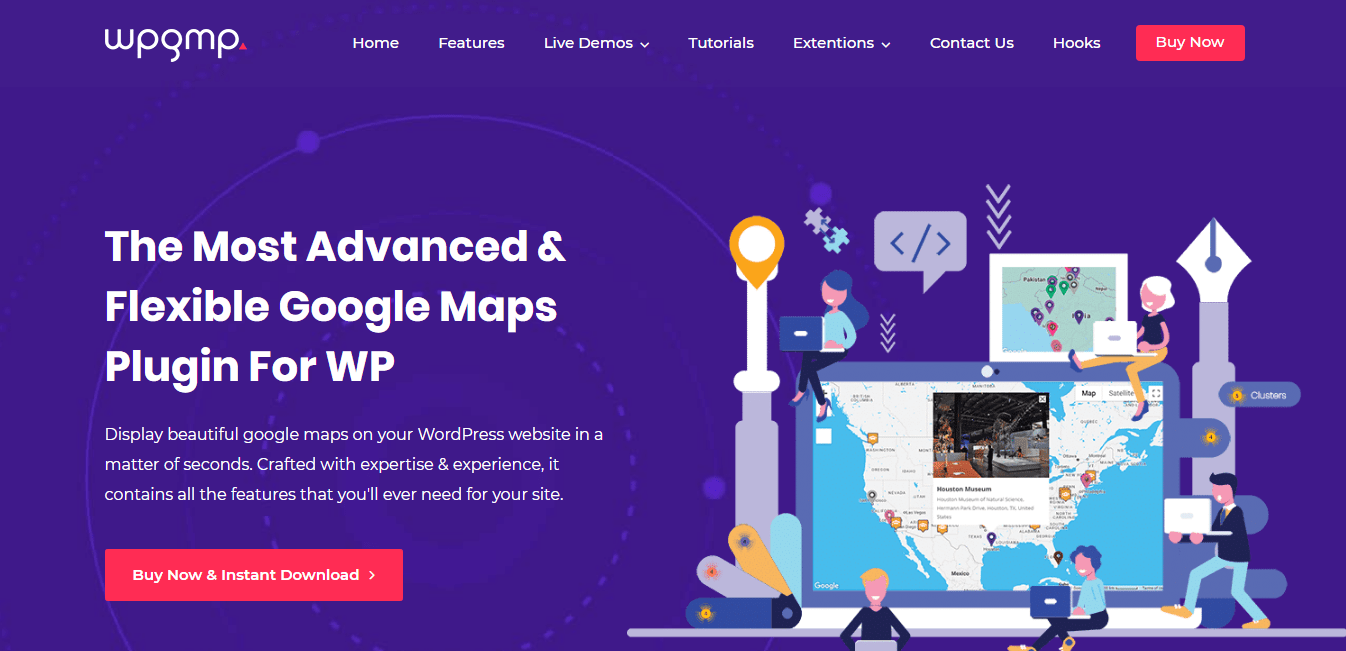 WPGMP
is one of a kind, a WordPress plugin that lets you create shortcodes to show mobile-friendly Google maps on pages, posts, widgets, and custom templates.
It's much easier to add unlimited locations with plenty of information. Whether you want to add multiple locations, display info window message for any of the location, select marker icons, or if you want to set map zoom level, it can be easily done with the use of this plugin.
Surprisingly, the pro version of this plugin contains even more worthy features. To name few of them, some great features include showing your post content on a Google maps, adding an extra field to the location, apply marker clusters for multiple locations, allows visitors to find nearby amenities and directions, display direction results in KM/miles, draw shapes like polygon, circle, or rectangle, and many more.
There are some eye-catchy features in this plugin pro version like tracking visitors' current location, displaying street view by adding pictures in the backend, and designing your own Google maps skins easily.
Pricing:
The lite version for this plugin is free of cost whereas the premium version can cost $59.
MapsMarker Pro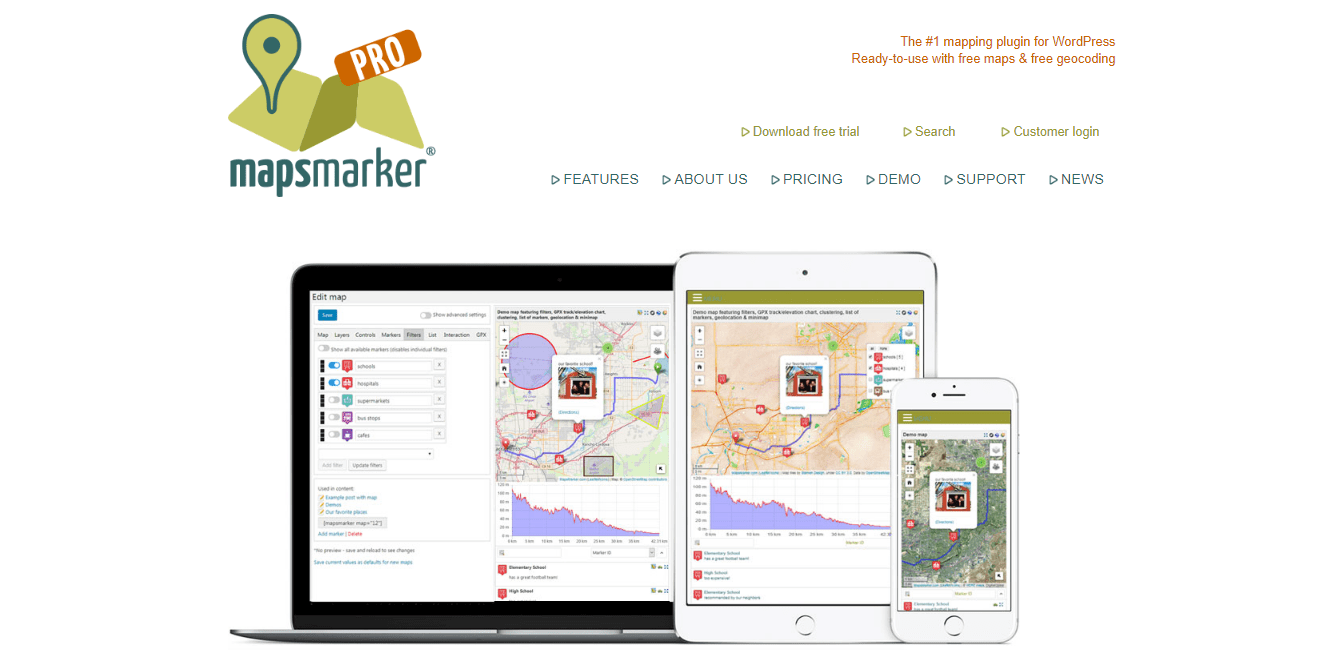 MapsMarker Pro
is a mapping plugin for WordPress that can be used to create multiple maps.
Some of the features that make this plugin stand out are the marker clustering, multi maps usage, filter, GPX tracks, importing and exporting .csv and .xls, and many more.
Apart from that, there are some amazing features like SEO optimized site where you can automatically add the links to your XML sitemaps.
This plugin also supports WPML and Polylang, dynamic marker list sorting by name, distance, search, browse, and current position.
Pricing:
This plugin offers the free-trial as well as pro version both. The personal plan starts from $39/year for a single site license.
Google Maps Widget Pro

Google Maps Widget Pro
 is a WordPress mapping plugin that has got fabulous features for displaying maps in a pretty easy way on your WordPress site.
Having said that, this plugin will allow you to easily place Google maps on any pages/posts, on custom posts, menus, sidebars, and add them as widgets or shortcodes on your site. Also, the plugin can let you add multiple maps.
There is a custom style option where you can get a map of your style accordingly that suits your overall website designs.
Pricing:
The Pro plan for this plugin starts at $18.99/year for single site usage.
Final Thoughts
After mentioning the WordPress mapping plugins in this article, you can easily figure out the best mapping plugin for your WordPress site that fits best for you!
Let us know which WordPress mapping plugin has drawn your attention in the comment section below!