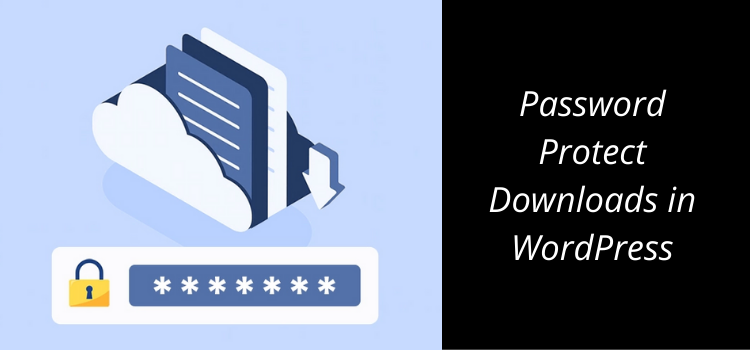 Effective Ways to Password Protect Downloads in WordPress
To engage more and more visitors or your email subscribers list, selling your digital products like e-books, videos, PDF files, how-to guides, or selling other downloadable products through your WordPress website could be an obvious step.
That being said, Digital Piracy could be a major concern here!
There has been a hype in the digital piracy for which you need to focus on the download protection for your WordPress website.
Whether you have free digital downloads or if they are paid items that can cost money for downloading those digital products, either way, you want to keep those downloads protected so that only the registered or paid users can have the access to your digital products.
Importance of Password Protect for WordPress Downloads
One of the most common ways for WordPress downloads password protection is by displaying the option for users to log in to get their required file downloaded.
Now, this requires users to register, and login where they need to remember their account login details like username, password, email, and so on.
On the other hand, there is the other way for protecting your WordPress download which is to set the option for password protection. With the utilization of this option, you can secure your files by locking them with the passwords so that your digital download items can be highly secured.
Further, the password protects WordPress downloads could be a more reliable solution than any other.
You would be wondering about how can it be done more smoothly? Then, the answer is simply by the installation of third-party plugins to easily password protect your WordPress website downloadable items.
Here, in this article, we will discuss both the WordPress built-In password protection method and the use of the WordPress plugins to password protect your WordPress downloadable items or products.
First, let's have a glance at the WordPress Built-In Password Protection facility.
WordPress Password Protection for Pages and Posts
You would be glad to know that WordPress by default has this amazing option to protect the pages and posts where you have the downloadable items or products.
All you got to do is to set the built-in password-protected feature that you can see on the
Publish
tab placed on the top right side of the WordPress page or post you are editing.
At there, you will be able to see the
Password Protected
option where you can apply your choice of a unique password so that only those who have the password can have access to that page or post.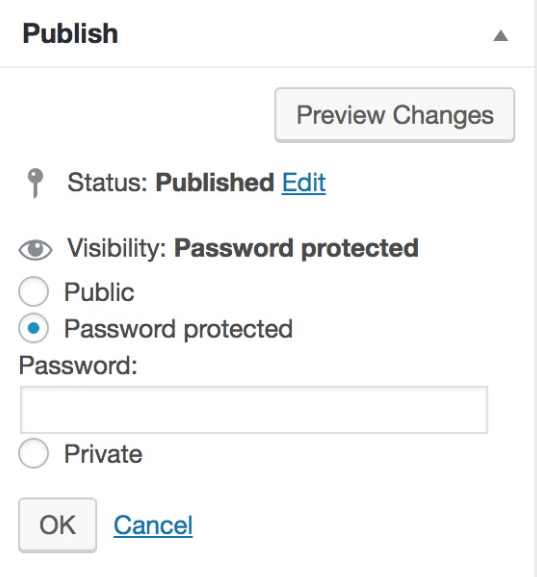 After applying that anyone who tries to access that page or post will be provided the option to enter a password.
Having said that, there remains the drawback of having access to your password-protected page or post by the multiple users as this password-protected feature is quite limited due to the user who has access to the password can easily share it to the multiple users.
This simply means, multiple users can have access to that page or post and finally your downloadable items can even be accessed by the unknown users with whom you haven't shared the password.
Due to that reason, you need to look for some other option that could be even far more reliable and more worthy!
As we discussed earlier, the other way is to simply make use of the popular plugins. We will drive you with some most convenient WordPress plugins with the use of which you won't have to worry about your securing your downloadable items anymore!
Let's jump to the plugin list!
WordPress Plugins Installation to Password Protect Digital Downloads
Simple Download Monitor Plugin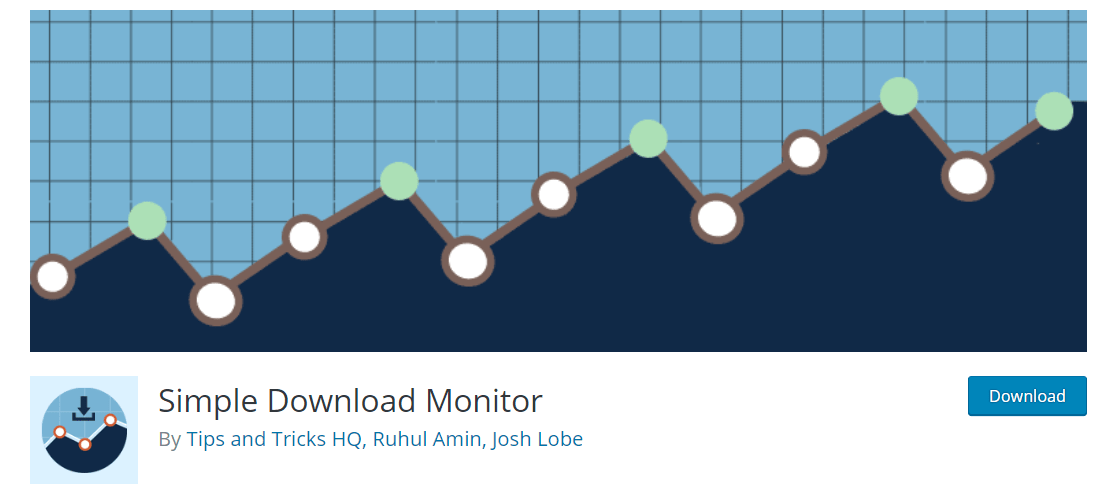 The
simple WordPress download monitor
plugin is generally used to monitor, manage, and track your digital downloads.
With this easy to use WordPress plugin, its simple and easy to configure the downloadable files from the admin dashboard itself.
Here's how you can install and activate this plugin and begin to protect your downloadable files.
Step 1: Installing and Activating the Plugin
First and foremost, you need to go to Plugin> Add New and in the Search box enter "Simple Download Monitor". Then, just click on the install and activate it.
Step 2: Adding a Password Protect Download Item
Next, if you want to make your digital download files available for password-protect download, then here is how you can easily do that.
Click the Downloads tab, then navigate to the Add New that can be seen under the "Downloads".




Then, you need to enter the details for the downloadable file such as the Title, Description, Thumbnail.
On the top right side, in the Publish Settings, you need to click on the Edit option that is placed next to the Visibility




Now, you need to choose the Password Protection where you need to enter a unique password
Finally, when all set and done, you can now click on the Publish button
Step 3: Insert the Shortcodes

You can easily find the shortcodes when you scroll down to the bottom of the page under the Shortcodes section. You just need to copy the shortcodes and then paste it into the page or post where you want to show your protected file.
Your digital download item can be seen in the Download Now button for the file.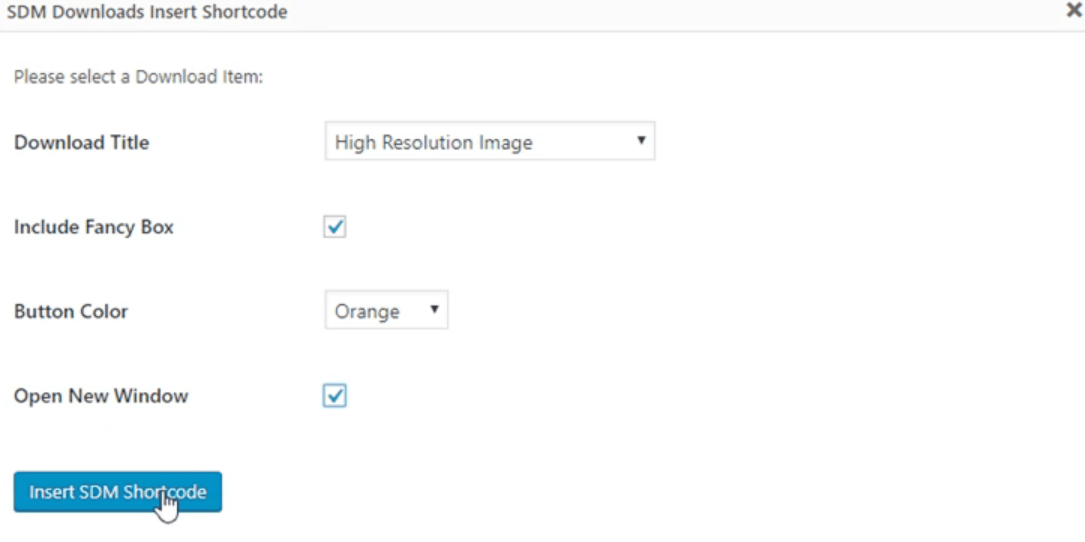 Hence, whenever visitors access the page that contains your digital download file, they will be prompted to enter the valid password to download the file.
This is how the visitors can see when they try to access the page!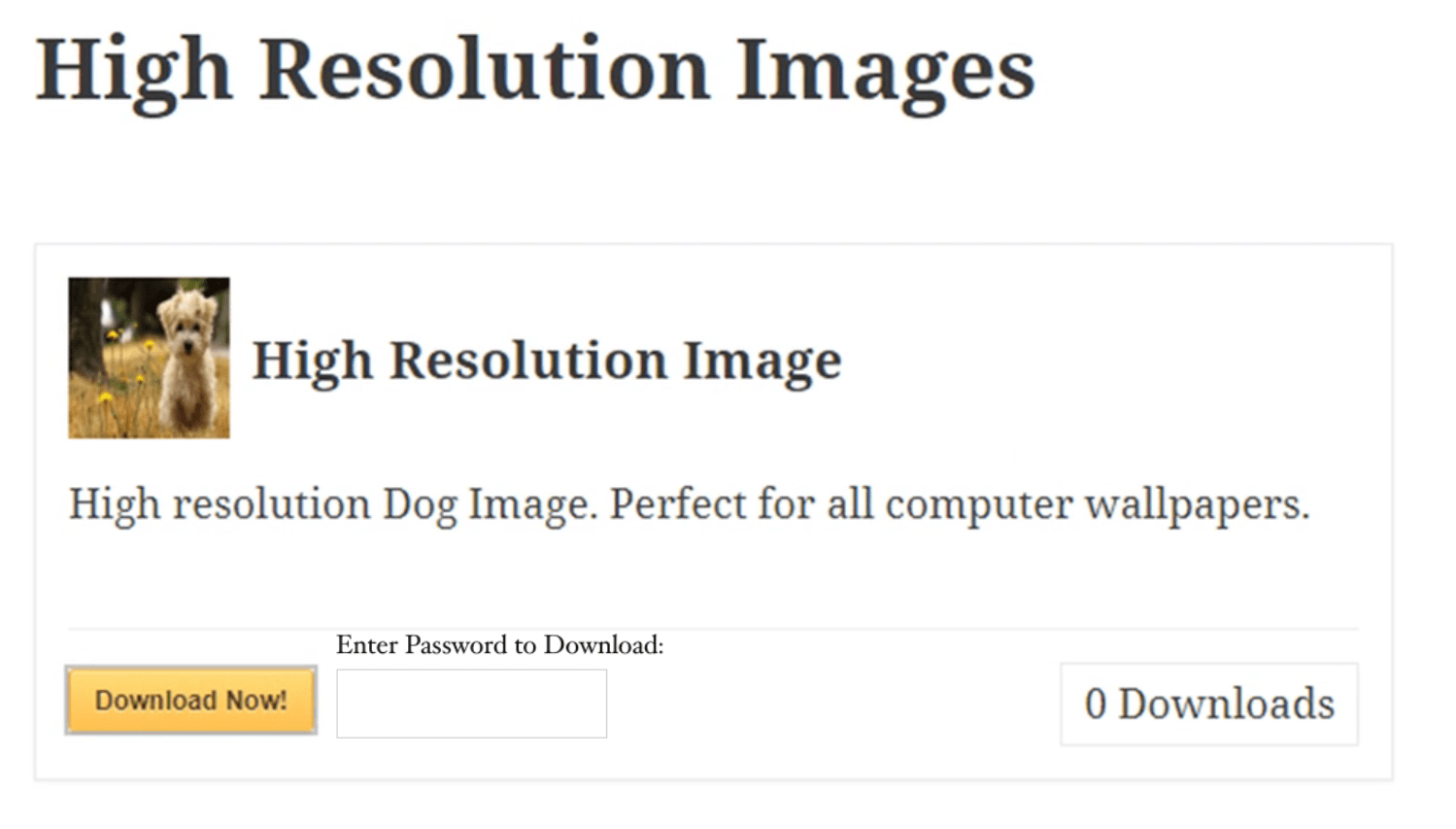 Moreover, the Simple Download Monitor plugin has many useful features like:
With the easy to access interface, you can easily add, edit, or remove the downloadable items.
Shortcodes for the direct download link access
Allows you to show trackable "Download Now" button
Facilitate to set the download count for each file
Ability to track the IP address of the user who downloaded the files
Allows you to track the visitors country
Creating the password-protected Download Now button
Provides you to add the Download Now button for the Gutenberg block on any page or post.
Prevent Direct Access
Prevent Direct Access plugin is the best-in-class WordPress plugin that can help you to protect your digital download items from the search engines like Google and others from indexing your protected files and their URLs.
This awesome plugin can also be used to protect your digital downloads from the users who do not have access to your digital files.
The Pro version of Prevent Direct Access can let you have tons of useful features that are hard to find in other plugins.
Amazing Features of this plugin
Allows you to protect unlimited media files of all file formats
Protect search engines from indexing your protected downloadable files
Restrict protected file access from unauthorized users
Ability to create unlimited downloadable links
Customize the download links as per your choice
Apart from that, you can very well have the option to protect multiple files at the same time with the use of this amazing plugin. The personal plan for Prevent Direct Access plugin starts from $14 limits up to 3 websites usage with (1 year of support and updates)
Final Words
Finally, these were the WordPress plugins and manual methods if you want to password protect your digital downloads. As mentioned above, different plugins can have their own benefits, while Simple Download Monitor is free to download WordPress plugin, Prevent Direct Access can cost you few bucks but with such a plugin, you get the benefits of advanced features.
Have you found this article an insightful one? Just leave us your valuable thoughts in the comment box below!