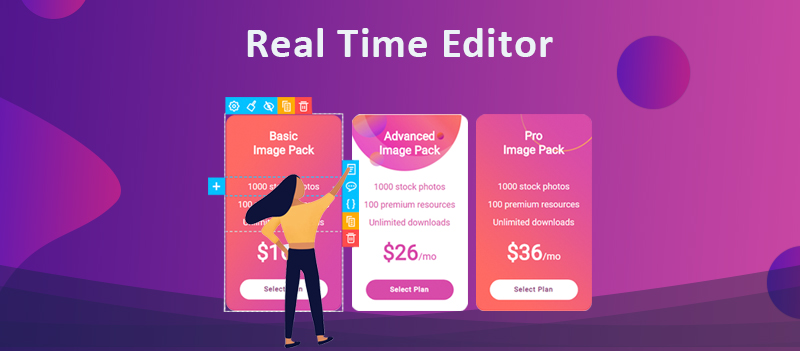 ARPrice – The Only Pricing Table Plugin with a Real-time Editor
If you have been in the marketing field, then you definitely know how significant a pricing table can be for your business. It helps your customers get a clear picture of what you offer and at what rate, without having to dig around too much into the product.

Besides, a beautifully designed, well-responsive pricing table cannot only simplify things for your visitors but can also add more professionalism to your website.

But what if you have no idea how to create such a pricing table? Well, that's when our superiorly designed pricing table plugin - ARPrice comes in. This WordPress plugin is a neatly coded, highly responsive product that helps you create appealing pricing tables in a jiffy.

Not just that, it is the only plugin in the entire WordPress market, that comes with a real-time editor. So now you can design your tables the way you want it to be and that too, without having to go back and forth to preview your design.

Let's have a look at the plugin editor and check out how it works.
APPrice Real-Time Editor and How it Works
As I have mentioned above, this is the only WordPress plugin that comes with a real-time editor. And irrespective of whether or not you have any knowledge about designing pricing tables, this plugin will make things easier for you like never before.

So this is how the editor looks like.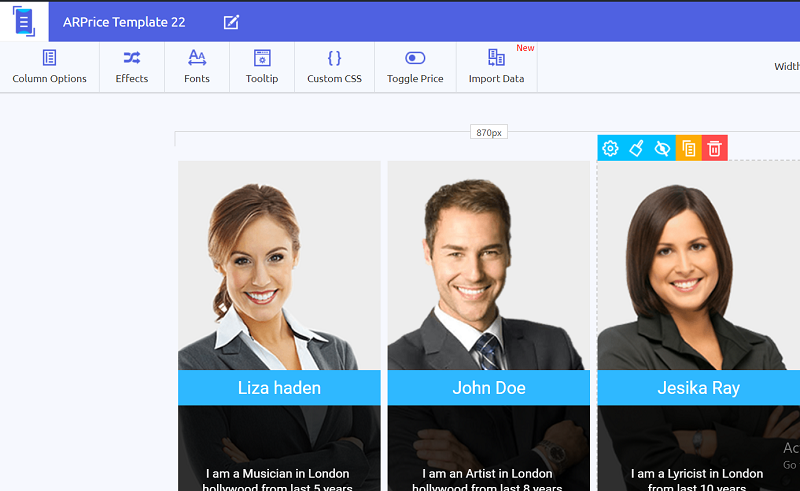 I have selected a pre-built template here, but you are free to create the table from scratch if you want.

Now let's start by working on the first column. Upon hovering on the column that you want to edit, you will have 5 different options.
Settings Tab
The first one is the Settings tab. This tab lets you work on your background color, highlight your column or add a ribbon to your column.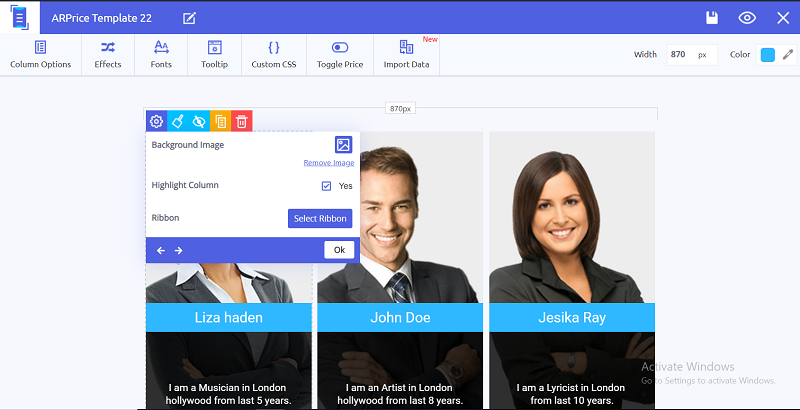 To add or remove an image, just click on the option offered. To add an image you can browse through your files on your computer and add it to your column. You will also have several other options here. For example positioning your image, scaling it, etc.

Now if you want to highlight the column, just check the box below the image option. The third option lets you add a ribbon to your column.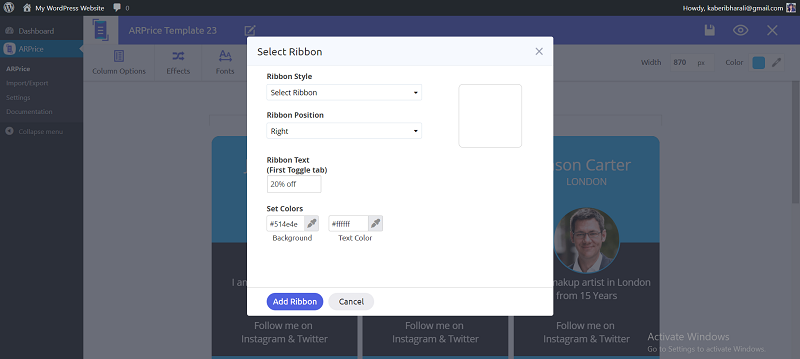 When you click on the select ribbon option, you will have the above window on your screen. It lets you select the ribbon style and position. You can also select the color and add your own text that you want to reflect on the column. As you work on your ribbon, you can have a preview of it on the right side.

Once you have the satisfied result click on the Add Ribbon option below for it to reflect on your table.
Background and Font
The next option is the Background and Font option. You will have different options here. It lets you add different colors to your column for the normal look and for the times when you hover over the column. Here's how you can work on changing the colors.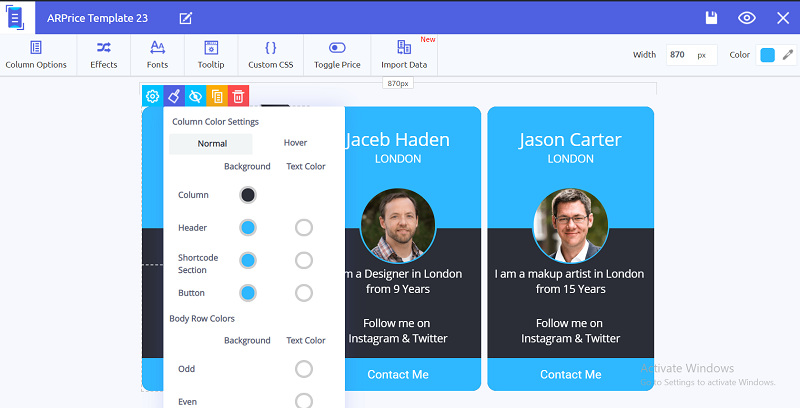 Now once you click on the ok button, you can see the changes right away without having to click on any preview button. Here's the result after the changes I made.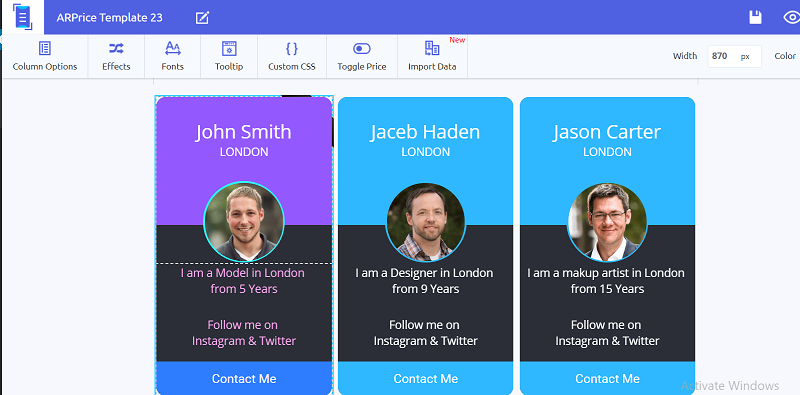 Hide Or Show Column
The next option lets you control which column you want to display and which one to hide. You can also add a new row if you want. Here's how you can do it.


Duplicating A Column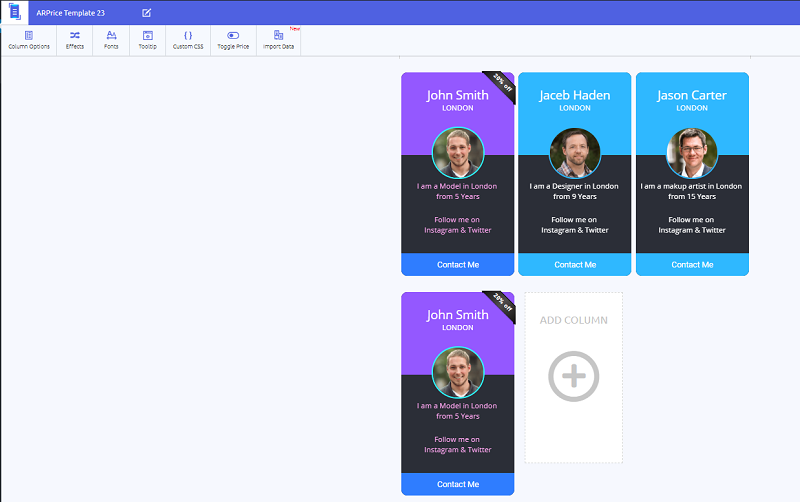 The next option is to duplicate a column. So if you want two or more columns of the same type you can use this option. You do not need to waste your time creating the entire thing from scratch.

Just click on the Duplicate column and an exact same column will be added to your table. You can create as many of these as you want.
Deleting a Column
Now this one like the above one lets you quickly delete a column from your table. Just click on the delete icon and confirm your step. Your column will be deleted right away.
More Options
Now the plugin offers more options. You will see a huge list of options on the top. Each is easy to work and makes your work simpler and quicker. These options lets you work on the entire table together. The above one lets you work on the columns individually.

Let's have a quick look at the working of the first two options first. Just click on the option that you want to work on and make your changes.


Isn't it simple, easy and quick?

You can also work on the Toggle Price option and it has a lot of options too. Here how you can use this option.


That's pretty much it. Now go get the plugin and start building your tables now.